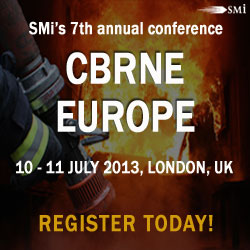 London (PRWEB UK) 4 April 2013
One of the major challenges facing governments and whole nations is the increase of CBRN-E (chemical, biological, radioactive, nuclear and explosive) cases. With incidents such as the Fukushima nuclear power plant crisis and the deliberate release of toxic chemicals in Afghanistan in 2009 and 2010, governments are authorising funding for public preparedness programs aimed at tackling the mass casualty effects of CBRNE weapons, as well as natural disasters.
SMi's 7th annual CBRNE conference comes at no better time to address the importance of tackling this pressing issue. CBRNE Europe 2013 will focus upon detection, response and threat of current CBRNE on a global scale. Whilst the hazardous materials remain the same, combating the threat that these materials pose requires a concerted approach to share information and solution developments.
CBRNE Europe 2013 features the following speakers:

Colonel Hartmut Schmitt, CPP WMD, NATO SHAPE
Lieutenant Colonel Juan Irizar, CBRN Subject Matter Expert, Spanish Army
Major Christophe Libeau, Hazmat & CBRN Brigade Officer, Paris Region Radiological Technical Advisor, Paris Fire Brigade
Dr. Jill Bellamy van Aalst, CEO, Warfeare Technology Analytics
Mr Neil Hall, Former Assistant Commissioner, Royal Turks & Caicos Islands Police Force
Professor Roberto Mugavero, Action Planning for Homeland Security & Protection from CBRN Events, University of Rome Tor Vergata
SMi's CBRNE event series has been attended by some of the leading names within the industry including: British Transport Police, Cabinet Secretariat, Government of Japan, Defence CBRN Centre UK, DoD, Federal Bureau of Investigation, FLIR Systems, International Committee Of The Red Cross, Interpol, Metropolitan Police Service, Japan MoD, Ministry of Health (MoH), NATO Headquarters, Qatar Armed Forces, Rheinmetall, Royal Thai Army, Selex, Singapore Police Force, Smith Detection, UK Border Agency Home Office, US Military plus many more.
For those wishing to attend, you can register online at http://www.cbrne-event.com or alternatively contact the CBRNE Europe team for more information on: +44 (0) 207 827 6736 or email ctuna(at)smi-online(dot)co(dot)uk.
---------ENDS-------
About SMi Group
The SMi Group is a highly professional, independent and global event-production company that specializes in Business-to-Business Conferences, Workshops and Masterclasses, and online Communities. The SMi Group creates and delivers events in the Defence, Security, Energy, Utilities, Finance and Pharmaceutical industries. For more information, please visit http://www.smi-online.co.uk.