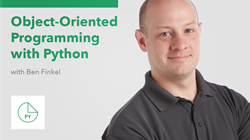 EUGENE, Ore. (PRWEB) August 22, 2018
CBT Nuggets announces the release of new online video training course, Object-Oriented Programming with Python.
In this 9-video, intermediate-level course, trainer Ben Finkel teaches learners how to write Python code that's maintainable, debuggable, and legible. Topics covered in this training include objects, methods, classes, and inheritance.
"It's important to understand what you're trying to accomplish with object-oriented programming (OOP) before we learn what it is," Finkel said. "In this course, learners can start writing code that's universal to programming, not just Python."
Finkel has worked in software development since 1996. Before joining CBT Nuggets in 2014, he was a software engineer in the banking industry. He is a Google Certified Trainer. His areas of expertise include Microsoft Azure, Google Cloud, and various programming frameworks.
Object-Oriented Programming with Python is available as part of a CBT Nuggets subscription. Subscriptions are available for individuals or teams, and can be paid monthly, semi-annually, or yearly.
About CBT Nuggets: CBT Nuggets provides on-demand IT training for individuals and teams that is available 24/7, from any device.