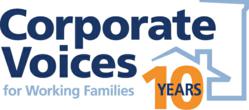 There is a national economic imperative for higher education and industry to collaborate to better prepare workers with STEM skills that have labor market value. --Stephen M. Wing
Washington, D.C. (PRWEB) October 03, 2011
Corporate Voices for Working Families launched a Community College Advisory Board on Sunday, October 2, at the STEMtech conference in Indianapolis, organized by the League for Innovation in the Community College. Community college leaders from across the nation gathered at a dinner sponsored by Corporate Voices on Sunday evening to support the formation of the Community College Advisory Board, a group that will provide business leaders with input on the needs of higher education institutions in Learn and Earn partnerships. This Board will be a national forum where higher education and business leaders can interact, learn and share best practices to contribute to scalable solutions that provide working learners with the skills and education needed to succeed in the 21st century. A list of Community College Advisory Board members is online at: http://www.corporatevoices.org/our-work/pse/leadership.
Industry groups, corporate executives, government officials and higher education leaders gathered at STEMtech to discuss increasing student access into and success in science, technology, engineering and mathematics (STEM) majors and careers. Recent studies have shown that growth in STEM jobs is projected to grow at a faster rate over the next decade than in non-STEM jobs, and that STEM workers earn about 25 percent more and are less likely to experience joblessness than their non-STEM counterparts.
As such, Peggy Walton, Corporate Voices' Senior Director of Workforce Readiness, moderated a panel at the conference's STEM Learn and Earn Summit about partnerships between businesses and higher education that help people earn postsecondary credentials in STEM fields. Panelists were: Keith Davis, Maintenance Manager, North American Product Support Center at Toyota Motor Manufacturing; Alan Jones, Chair of the Health Careers Collaborative of Greater Cincinnati; Annette Parker, AMTEC Executive Director, Kentucky Community & Technical College System; and Tamara Pinkas, Cooperative Education Coordinator, Advanced Technology Division at Lane Community College. Panelists discussed opportunities and obstacles to collaborating to create and grow Learn and Earn talent development models.
"Learn and Earn models like the ones led by Toyota and IBM, in partnership with Kentucky Community and Technical College System and Queensborough Community College, are increasingly necessary to prepare today's working learners for the jobs of the future," said Stephen M. Wing, Corporate Voices' President. "Today, there is a national economic imperative for higher education and industry to collaborate to better prepare workers with STEM skills that have labor market value. Our Community College Advisory Board will play a valuable role in sustaining and growing these partnerships."
Learn and Earn partnerships in STEM fields like automotive technology, information technology and health care will help enhance the competitiveness of the U.S. workforce,close the national skills gap and put workers on meaningful educational and career pathways. These innovative partnerships will also help ensure that America leads the world with the highest proportion of college graduates by 2020, a goal President Obama set to ensure American economic competitiveness in the global economy.
Learn and Earn micro-business cases illustrating the emerging best practices of Toyota and IBM are part of a series developed by Corporate Voices to identify, promote and encourage innovative partnerships between employers and higher education institutions to help today's working learners—often low-income young adults—complete their education while working.
Corporate Voices' Learn and Earn initiative is made possible with the support of the Bill & Melinda Gates Foundation and its Postsecondary Success Strategy.
About Corporate Voices for Working Families
Corporate Voices for Working Families is the leading national business membership organization shaping conversations and collaborations on public and corporate policy issues involving working families. A nonprofit, nonpartisan organization, we create and advance innovative policy solutions that reflect a commonality of interests among the private sector both global and domestic, government and other stakeholders.
We are a unique voice, and we provide leading and best-practice employers a forum to improve the lives of working families, while strengthening our nation's economy and enhancing the vitality of our communities. Publications, research studies and toolkits on a host of workforce readiness, workplace flexibility, family economic stability and work and family balance issues are available online at http://www.corporatevoices.org.
###