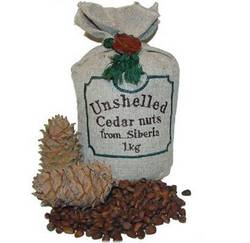 These amazing seeds contain an incredible number of useful substances: vitamins, micro-nutrients, proteins, carbohydrates and fats.
New York, NY (PRWEB) November 29, 2010
For the first time in modern medical history a group of researches revealed a secret of unique healing power of Siberian cedar nuts. With the help of advanced research technologies the scientists in an comprehensible manner explain natural mechanics of cedar nuts impact on a human body.
Ringing Cedars of Russia.org has published a comprehensive research article on the Siberian cedar nut. Full text and tables are available at
http://www.ringingcedarsofrussia.org/articles/Cedar_nuts_nutritional_information.php
The comprehensive professional research shows that nutritional and medicinal properties of nuts come largely from their content of fat, protein and other substances. Cedar nut fat differs from other fat sources in its high content of polyunsaturated fatty acids, especially linolic acid.
First among nitrogenous substances are the proteins, which in turn are characterized by an elevated content of amino acids, especially arginine. These amino acids are extremely important to development of the growing organism. Hence cedar nuts have been essential in the diet of children, teenagers and pregnant women. Nut protein is easy to digest.
Cedar nuts contain valuable lipolytic vitamins E and P . E-group vitamins, or tocopherols, are very important and essential in ensuring complete genetic heredity. (The word tocopherol in Greek literally means "I bear offspring".) A deficiency of Vitamin E upsets the fatty balance in the system. Vitamin E is responsible for the production of milk in nursing mothers, and its deficiency can stop lactation. A person's predisposition to atherosclerosis can also be explained by a Vitamin-E deficiency.
Cedar nuts contain a complex of B vitamins, which normalize the activity of the nervous system, have a favorable influence on the growth and development of the human organism, and improve blood composition. Young wolves delight in feasting on cedar nuts during ex-foliation. Cedar nuts are used by both carnivores and herbivores, and are an effective antidote to vitamin deficiency, which causes serious disorders in the system.
Cedar nut kernels are rich in valuable mineral substances and micro-nutrients. The food value is confirmed by the chemical composition of the cedar nuts. They surpass all other nuts as well as oil seeds in terms of photostatic content. As the richest source of lecithin they are comparable only to soybean. Cedar nuts are also a rich source of iodine, which is very important to residents of northern latitudes.
Cedar nuts offer a sufficient daily intake to satisfy an adult organism's daily need for amino acids, as well as such important and often deficient micro-nutrients as copper, cobalt, manganese and zinc. On the whole cedar nuts are very easy to digest, and have a tremendous beneficial effect on the human organism.
COMPOSITION OF CEDAR NUTS
Nutrient Analysis Source: Custom
TABLE 1 (available in a full version of text)
According to research, the cedar nut kernels weighs, on average, approximately 43% of the total mass of the nut. These amazing seeds contain, as has been stated above, an incredible number of useful substances: vitamins, micro-nutrients, proteins, carbohydrates and fats. Let examine all this treasure in more detail.
Nut kernels contain 63.9% high-quality oil and 17.2% easily digestible proteins, including 19 amino acids.
70% of these are essential and relatively essential, which indicates the high biological value of proteins. While arginine (up to 21g/100 g of protein) is considered replaceable in the diet of an adult person, it is considered essential in the case of children.
Cedar nut protein is distinguished from the protein of other products by its elevated content of diamino-hexanoic acid (up to 12.4g/100g of protein), methionine (up to 5.6g/100g of protein) and triptophane (up to 3.4g/100g of protein) - these are the most frequently deficient amino acids, which usually limit the biological value of protein in product composition.
The vitamins contained in cedar nuts contribute to the growth of the human organism.
TABLE 2 (available in a full version of text)
Cedar nuts are rich in the most important macro- and micro-nutrients:
TABLE 3 (available in a full version of text)
The composition of cedar nuts includes carbohydrates.
TABLE 4 (available in a full version of text)
Cedar nuts should be a constant part of the diet of children and teenagers. They have a beneficial effect on children physical and mental development. They are very useful and essential during the ex-foliation period.
The use of cedar nuts serves to strengthen the organism's defense mechanisms.
http://www.ringingcedarsofrussia.org/
Copyright Ringing Cedars of Russia.org
###