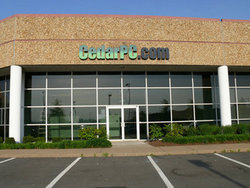 CedarPC constantly offers low prices throughout the year, but we still save our most ridiculous sales for Black Friday," John Vuog, CEO CedarPC.
Chantilly, VA (PRWEB) November 16, 2010
Cedar PC, a prominent computer dealer based out of Chantilly, VA, has the scoop on what to look for and what to avoid on Black Friday.
"Many big name companies won't be featuring crazy deals," says John Vuong, CEO of CedarPC. "Instead, they'll be counting on consumer unawareness and store name familiarity for sales as they continue to water down their Black Friday bargains."
Erin Wallace, a market analyst for CedarPC, says that the notion that Black Friday is the number one day for business sales is misleading. "The two weekends before Christmas dominate that category, while Black Friday typically ranks between 5th and 8th for actual sales totals. What is true is that businesses see more consumer traffic on Black Friday than any other day of the year."
Wallace goes on to say this false impression leads shoppers to believe that because businesses do so well on Black Friday, they must not mind offering great bargains. Consequently, those shoppers trust that the price cuts they encounter are more significant than usual. "Major retailers are taking advantage of that assumption by featuring deals that aren't much better than their regular sales pricing from any other time of the year."
While major retailers are toning-down their Black Friday price reductions, they are beefing up their marketing campaigns. "Stores like Wal-Mart, Sears, and JCPenney have stretched Black Friday into a month-long exhibition of underwhelming sales, beginning as soon as November rolls around," says Wallace.
Another tactic practiced amongst the mega-retailers is the marking down of larger portions of their inventory, yet at the same time trimming their doorbusters. "In effect, they are presenting more items for sale, but with softer reductions. Shoppers see more items on sale, so they buy more items than they would otherwise, all the while saving less per item. For these large companies, Black Friday is another opportunity to maximize profit," remarks Wallace.
For less ubiquitous retailers, Black Friday serves a different purpose. "It's a means of generating word-of-mouth, something that big name companies no longer need to concern themselves with," observes Vuong. "Consumers will flock to major retailers because they are already household names and are usually conveniently located. Showcasing crowd-drawing bargains isn't as necessary when the crowd is already guaranteed."
The legitimately impressive Black Friday deals for 2010 will likely be found at smaller businesses that are more interested in word-of-mouth than the bottom line. "Our company, for example, will be selling 6th Generation IPod Nanos for $99 apiece (MSRP $149.99) and Dell Inspiron 1764 laptops for $299 (MSRP $550+), along with other marked-down computer products," says Vuong.
"Selling items at a loss can be worth it," says Wallace. "Customers can save considerably while the businesses enjoy exposure. It's a win-win scenario."
Great deals will still be attainable this coming Black Friday, but shoppers will need to wander off the beaten path to find the real bargains. Major retailers will continue to boast the most consumer traffic, says Vuong, but online retailers and local businesses will be the prime hunting grounds for shoppers looking to save big.
To check out CedarPC's full Black Friday line-up, click here.
About Cedar PC
Since 2003, CedarPC has provided businesses and individuals with good-as-new refurbished laptops, desktops, netbooks, and computer components. CedarPC is the cost-effective and socially responsible path to quality computing. Visit http://www.cedarpc.com to learn more.
###