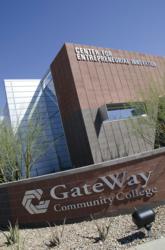 Phoenix, AZ (PRWEB) March 04, 2013
The Center for Entrepreneurial Innovation (CEI) at GateWay Community College will be holding its formal grand opening and ribbon cutting ceremony at 10 a.m., Thursday, March 7. CEI is a business incubator for early-stage and startup companies, offering business development services, educational programming and management resources.
Speakers will include GateWay Community College President Dr. Eugene Giovannini, Jacob Macias of the Economic Development Administration and CEI Executive Director Jeff Saville. Also featured will be Jasper Welch in one of his first public appearances since being named president and CEO of the National Business Incubation Association.
Another highlight of the ceremony will be the 11 client companies of CEI, which represent various industry segments such as bioscience, clean energy and software.
"Our clients are the reason we exist," said Saville. "What better venue than an open house in front of stakeholders and the general public to showcase these entrepreneurs who have dedicated themselves to positively impacting jobs in the state and the region."
The result of a partnership among the City of Phoenix, the Economic Development Administration and the Maricopa Community Colleges, as well as additional public and private partners, the business incubator helps companies grow and commercialize their business, championing small business job creation for the region.
The center houses more than 30 office, wet lab and light manufacturing spaces, as well as state-of-the-art presentation technology, client server room, and additional collaborative and meeting areas. Clients have access to student research teams and a vast network of mentors and partner organizations as well.
As attendees tour the facility after the ceremony, they will have the opportunity to interact with CEI clients and learn more about each company.
For additional information, visit http://www.ceigateway.com/grandopening.
CEI is located at 275 N. GateWay Drive in Phoenix, at the southeast corner of Van Buren and 38th Street/GateWay Drive.
###
About CEI
The Center for Entrepreneurial Innovation is a community-based facility at GateWay Community College located in the heart of Discovery Triangle. With funding from the US Economic Development Administration, City of Phoenix and Maricopa Community College District, CEI provides targeted business services and proactive business support to create a systematic link between technology development, compelling markets and opportunities; entrepreneurial and managerial talent development; early stage capital sourcing; and education and training, interns, coaching and business counseling.