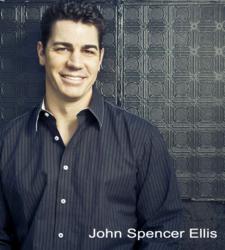 I have to thank my dad for setting a great example of living the "fitness lifestyle". Now, I'm able to help millions do the same.
Rancho Santa Margarita, CA (PRWEB) September 06, 2012
When John Spencer Ellis turned 12, he asked for a gym membership. Earlier this year, he celebrated the 20th anniversary of John Spencer Ellis Enterprises, his leading national fitness and personal development solutions company. And all of this hard work and dedication recently came together when he was one of just five people named to the 2012 Personal Trainer Hall of Fame.
The Personal Trainer Hall of Fame was founded to recognize men and women who help make the world a healthier place, annually honoring fitness professionals who have made noteworthy achievements in their field. According to the organization, the "people who dedicate their lives to the world of fitness make a profound difference in the lives of the people they work with as well as their communities. There are very few professions which call for your undying loyalty and commitment, much less professions like personal training which literally change lives on a daily basis. Fitness professionals in this world are long overdue for an organization that is dedicated to celebrating the work that they do, and the outstanding example they set for us all."
In addition to John Spencer Ellis Enterprises, Ellis is also the CEO of the National Exercise & Sports Trainers Association (NESTA), Spencer Institute for Life Coaching, International Triathlon Coaching Association (ITCA), and the Mixed Martial Arts Conditioning Association (MMACA). He has developed programs used by Cirque du Soleil, Army, Navy, Air Force, Marines and Coast Guard, and consults the Ultimate Fighting Championships (UFC).
"I was lucky enough to find and fall in love with the fitness lifestyle at a young age, and I am incredibly honored that my work in the personal training, fitness and wellness field was recognized by the Personal Trainer Hall of Fame," said Ellis. "I have been inspired by so many clients and colleagues along the way and absolutely love what I do, which is probably my biggest secret to success."
Ellis has good company in this year's Personal Trainer Hall of Fame. Other inductees include Lou Ferrigno, best known as "The Incredible Hulk," also a bodybuilder and fitness consultant; Larry North, who has a popular talk radio program and his written several books on fitness and weight loss; Dr. James Stozen, team chiropractor to more than 70 national and world championships; and Everett Aaberg, co-owner of the TELOS Fitness Center and founder and CEO of the Ortho-Kinetics® Institute.
About John Spencer Ellis Enterprises
John Spencer Ellis Enterprises is a solutions provider for fitness and coaching professionals around the world, providing education, turn-key business programs, coaching and resources for new and advanced fitness and coaching professionals. For more information about John Spencer Ellis Enterprises, please visit http://johnspencerellis.com/