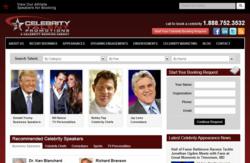 We make it easy for universities, small businesses and Fortune 500 companies to book celebrities based on their budget and overall corporate goal.
Orlando, Florida (PRWEB) March 05, 2013
For years companies have turned to celebrities for endorsements, speaking engagements, corporate appearances, trade shows and golf outings. Booking these celebrities for events was a hassle as an exponential amount of time was needed to locate their contact information. In 1999, CelebrityTalentPromotions recognized this gap in the market and launched CelebrityTalentPromotions.com which offered companies a one stop destination for booking speakers and celebrities for their every corporate need.
After years of success, CelebrityTalentPromotions re-launched a new website allowing companies to easily navigate through their speakers based on name, fee, location, occupation as well as by category such as Chefs, Business Speakers, Comedians, TV Personalities and many more. This will allow potential customers to locate the perfect talent based on their budget and overall goal.
As you navigate through the newly redesigned site, you will see they have most recently booked Mark Cuban, Tyler Florence, Magic Johnson, Jay Leno, Bill and Giuliana Rancic, Bruce Jenner along with other speakers for corporate events. Their success does not stop there as they also have an athlete booking site, AthletePromotions.com, which focuses on booking athletes for corporate appearances, speaking engagements, product endorsements, autograph signings and other events. AthletePromotions has partnered with athlete like Marcellus Wiley, Frank Shorter, Spud Webb, Kenny "The Jet" Smith, Thurman Thomas, Brady Anderson, Wayne Chrebet and Dan Fouts among several other athletes to build, market and manage their official websites.
The demand for speakers and celebrities continues to sky rocket, but the team at CelebrityTalentPromotions and AthletePromotions continues to meet the requests of all their clients.
The next time your group wants a speaker or talent for a store grand opening, private appearance, a golf outing, keynote speech or trade show booth, visit the newly re-launched CelebrityTalentPromotions.com or AthletePromotions.com to ensure a memorable experience for your clients, employees, university and/or customers.
Written By: Anthony Fernandez