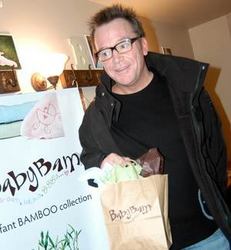 We launched our line of bamboo baby clothing and skincare products in January at the Sundance Film Festival because we are a green company based in Utah - and the tremendous celebrity interest surprised us
Provo, UT (PRWEB) March 19, 2008
Everywhere you turn in Hollywood these days it seems a "baby bump" is the hot new trend. A-listers everywhere are entering motherhood - some for the first time - and for many it's a repeat performance. Hollywood's newest eco-babies are enjoying bath time with skincare products featuring zero dyes, fragrances, parabens, phthalates, sodium laurel or laureth sulfates, triclosan, or other harmful toxic chemicals. They dress in the latest eco-chic bamboo and organic cotton onesies and pj's with plush bamboo towels to catch milk mishaps and tummy overflow.
"We launched our line of bamboo baby clothing and skincare products in January at the Sundance Film Festival because we are a green company based in Utah - and the tremendous celebrity interest surprised us," said BabyBam Collection's (http://www.babybamcollection.com/celebrityphotos.htm) CEO Jody Graziano Jonas. "Our company specifically offers eco-friendly, sustainable, and super soft bamboo baby clothing for infants 0 to 9 months - and we had celebrities stopping by to have a look such as Tom Arnold, Maddie Corman, Raquel Gardner, Bart Johnson, Patricia Kara, Jason Kennedy, Jamie Luner, Ray Santiago, Kevin Sorbo, Kaycee Stroh, Olivia Thirbly, and Emily Wagner. It seems this spring - almost everyone knows someone who's having a baby soon - and Hollywood is no exception. Celebrities seem to not only love our super soft and chemical-free fashionable baby products - but they appreciate our company's values - all manufacturing is compliant with Fair Trade requirements and usage of the Earth's resources is kept to a bare minimum in all business practices," concluded Jonas.
BabyBam Collection offers exceptionally soft bamboo and organic cotton onesies, pants, pajamas, and towels are naturally hypoallergenic, moisture wicking and anti-bacterial thus preventing odor and newborn skin irritations. Their bamboo baby towels are four times more absorbent than cotton towels. BabyBam Collection also offers a certified organic skin care line for infants and newborns called Little Lathers - blended with yarrow, calendula and aloe vera, and a unique bamboo powder to gently cleanse. BabyBam Collection's organic Lavender Balm can be used on sore diaper areas, chapped cheeks, and flaky scalps for cradle cap. All items are biodegradable, vegan and cruelty-free.
The BabyBam Collection of apparel and skincare products retail from $9.00 - $42.00 U.S. In celebration of Earth Day 2008, BabyBam Collection is offering 10% off total purchase - online shoppers can enter the code "EarthDay" at checkout to receive the discount. They are available for purchase at LeSabon in New York and New Jersey, Twig and Twill in Scottsdale, Arizona and online at http://www.babybamcollection.com
Wholesale inquiries are welcome at wholesale @ babybamcollection.com
Media Contact:
Ria Romano, Partner
RPR Public Relations, Inc.
Tel. 786-290-6413
# # #