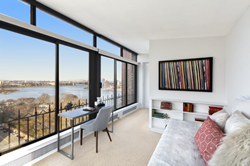 Where Real Estate Is Never Boring!
POMPANO BEACH, Fla. (PRWEB) September 10, 2019
"Irving Berlin's East End Penthouse"
One of the most prolific and important songwriters of the 20th century, Irving Berlin, lived in an East End penthouse in New York City with his wife, Ellin, which they bought in 1931 when he was 43. They lived there for the next 13 years and no doubt inspired by its exceptional views over the East River and the city, it was where he wrote "I've Got My Love to Keep Me Warm," "Say It Isn't So" and introduced "God Bless America," which he had written years earlier. Now on the market, it is priced at $3.995 million.
Built in 1929, Berlin's former home is located in the East Side's Yorkville neighborhood overlooking the greenery of Carl Schurz Park with wide river and city views from the terraces and large windows that surround three sides of the home. The main floor opens to a foyer with circular stairs, a living room with 28-foot ceilings and five large windows framing the view, a wood-burning fireplace and access to the wraparound terrace. There is also a formal dining room that opens to a four-season sunroom with access to the terrace. The lower level also contains the kitchen and one bedroom and bath formerly used as staff quarters. Upstairs is a large library with a wall of windows that opens to the top terrace, two bedrooms including the master and two baths, all with mesmerizing views.
New York's hidden Yorkville neighborhood has attracted the moneyed elite for years and has drawn celebrities such as actress Debra Messing, singer Ricky Martin, baseball-star Johan Santana and many other 20th-century notables.
Living in the apartment represented a major achievement for Berlin, who was born in Siberia and parents immigrated to New York when he was a child, who forged a living from the only thing he could think of to do - singing in local establishments and writing songs he thought the locals would enjoy. By the time Berlin and his wife moved into the apartment, he had written hundreds of songs and was fast becoming known as the songwriter who represented the soul of America with songs and lyrics that appealed to the average American. In his lifetime of 101 years, Berlin's songs have become a large part of the Great American Songbook. Already a legend at age 30, by his death in 1989 he had written over 1,500 songs, the scores for 20 Broadway shows and 15 films with eight of those songs nominated for Academy Awards. Berlin's passion for his adopted country was evident through his music and the way he assigned royalties in order to give back to organizations like the Girl and Boy Scouts and the World War II war effort, which accrued millions. Throughout his life he returned to the neighborhoods where he struggled to survive as a young boy reminding himself of the gift of opportunity that the United States had provided.
Now for sale is the Upper East Side duplex penthouse formerly owned by Irving and Ellin Berlin that overlooks stunning views of Carl Schurz Park, the East River, bridges and city lights with wraparound terrace ideal for entertaining. Priced at $3.995 million, it is listed by Jane Andrews with Warburg Realty, Madison Avenue in New York City.
Visit TopTenRealEstateDeals.com for more historic, spectacular and celebrity homes and real estate news.