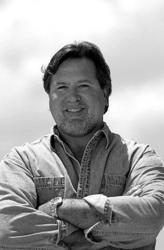 Vibrant Rioja is delighted to partner with three of the most well-respected chefs in Florida for their exclusive Friday night Gran Reserva and Reserva Wine and Food Pairing event.
Miramar Beach, Fla. (PRWEB) March 12, 2013
Norman Van Aken, Giorgio Rapicavoli and Brian Siebenschuh, three of Florida's most famed chefs, will be participating in the Vibrant Rioja exclusive wine and food paring event at the South Walton Beaches Wine and Food Festival, April 25-28. This unique tasting event will be held on Friday evening, April 26 from 6-9 pm during the Festival in Grand Boulevard at Sandestin.
Chef Norman Van Aken is legendary in the international culinary world, having introduced the concept of "fusion," and is the "Founding Father" of New World Cuisine. He was inducted into the prestigious list of James Beard's "Who's Who in American Food and Beverage;" his restaurant "Norman's" was a finalist for the James Beard Foundation's "Best Restaurant in America; " and he has been a semi-finalist for "Best Chef in America." Chef Van Aken has published five cookbooks, the most recent being "My Key West Kitchen," published in 2012.
Chef Giorgio Rapicavoli was the first Miami winner of Food Network's "Chopped" series in 2011 and went on to open Eating House, a hugely popular pop-up restaurant with a cult following that he turned into a permanent restaurant this year. He has led a handful of respected restaurants and worked alongside internationally revered chefs. His artistic approach to food has led to a nomination for a James Beard "Rising Star Chef of the Year" 2013 award at the young age of 27.
Chef Brian Siebenschuh is the creator and co-owner of Restaurant Orsay in Avondale, FL. This restaurant is a well-known destination for food lovers seeking a subtle yet powerful melding of both French and American cuisine. A self-taught chef, his recognition and success are the result of years of hands-on kitchen work as well as a business foundation that has fostered his success in managing a successful restaurant.
Vibrant Rioja is delighted to partner with three of the most well-respected chefs in Florida for their exclusive Friday night Gran Reserva and Reserva Wine and Food Pairing event. In addition, Vibrant Rioja is a sponsor of the Savor South Walton Culinary Pavilion at the Festival, where the celebrity chefs will prepare dishes to pair with Rioja wines. All three chefs will present a 30 minute cooking demonstration both days, April 27 and 28, and Chef Aken will also be available to sign his cookbook. Vibrant Rioja's National Account Director, Dhane Chesson also will lead a wine seminar/panel discussion of top Rioja producers on Saturday, April 27 from 12:15 to 1:00 pm. This special seminar begins early and will kick off the Festival's tasting seminars, all of which are included as part of the Grand Tasting ticket.
ABOUT VIBRANT RIOJA
Vibrant Rioja is the marketing arm of the Rioja wine region and promotes the wines of Spain's premier Rioja region, located in the north-central area of the country. Rioja is only one of two wine areas in Spain to be awarded the Denominacion de Origen Calificada (DOCa) status, Spain's highest recognition of a wine region that consistently demonstrates the highest quality levels. Wines from the Rioja region are typically produced using the Tempranillo grape and an aging classification which is unique to the region. Rioja wines are also known for their value and food-friendly qualities. Thus, Vibrant Rioja will create an incomparable stage for the three celebrity chefs to pair creative hors d' oeuvres and a beautifully prepared multi-course family style dinner with these old-world Rioja wines.
For additional information about Vibrant Rioja please visit: http://www.vibrantrioja.com or contact Laura Petrosky at lpetrosky@crt-tanaka.com.
ABOUT SOUTH WALTON BEACHES WINE AND FOOD FESTIVAL
South Walton Beaches Wine & Food Festival is an annual charity event held the last weekend of April. The festival features a stunning showcase more than 800 of the best wines the world has to offer. Celebrity wine producers and chefs will present fine wine and food pairings from the world's most famous appellations. The Culinary Village presents the Savor South Walton Culinary Pavilion showcasing a sumptuous array of foods to taste, wines to pair, as well as wine and food seminars and cooking demonstrations. The event is a major fundraiser for Destin Charity Wine Auction Foundation, which benefits children in need in Northwest Florida. For more information, including a list of attending winemakers and to purchase tickets, visit http://www.SoWalWine.com.
--END--