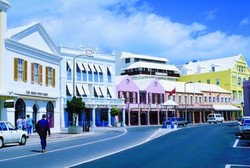 2010 is going to be a very big year for us and Celebrity Cruises
Hauppauge, NY (PRWEB) March 10, 2009
After a two-year absence, Celebrity Cruises has just announced that they will resume cruises to Bermuda round-trip from Bayonne, New Jersey (across from the Statue of Liberty) starting in 2010. Better yet, these 7-night Bermuda cruises will be on the 5-star Celebrity Summit, one of the elegant Millennium-class ships.
To celebrate the good news, a festive "Celebrity Is Back" party was held for the staff at Direct Line Cruises on March 6, hosted by Marie La Cava of Celebrity Cruises. In explaining why this particular deployment was so significant, Marie offered this historical perspective. "Although Celebrity Cruises merged with Royal Caribbean in 1997 and now offers cruises to virtually every corner of the world, Celebrity Cruises has its roots right here when it started offering 7-night cruises to Bermuda round-trip from New York City on the Celebrity Meridian back in 1989". Adding to that perspective, Greg Coiro, CEO of Direct Line Cruises recalled that "When Direct Line Cruises started in business nearly 15 years ago, almost 90% of the cruises we booked were Celebrity cruises to Bermuda. So, although Direct Line Cruises has expanded dramatically over time, our company is also deeply rooted in this product."
So, the return of Celebrity to Bermuda cruises from the New York - New Jersey area is quite a homecoming event. To spread the good news to its long-time clients (including hundreds who had already requested details about these NJ - Bermuda sailings as soon as Celebrity made the official announcement), Direct Line Cruises announced a two-week advance sale promotion featuring onboard credits up to $100 for reservations on the Celebrity Summit that are made between March 6 and March 19, 2009, in addition to free travel insurance and special introductory rates. This promotion applies to the regular 7-night Bermuda cruises on Celebrity Summit from Cape Liberty, New Jersey as well as the 7-night and 14-night Canada / New England sailings on that ship from Cape Liberty.
With the Celebrity Summit sailing round-trip from the New York - New Jersey area and the Celebrity Mercury sailing round-trip from Baltimore, Maryland (the second largest market for Direct Line Cruises), Greg Coiro predicts that "2010 is going to be a very big year for us and Celebrity Cruises".
# # #