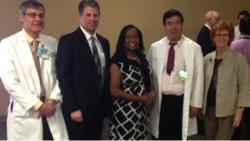 "Why do we allow millions of children and adults to suffer when a simple blood test exists to screen for celiac disease?"
Los Angeles, CA (PRWEB) June 18, 2013
The CDF funded study, The Prevalence of Celiac Disease in a Primarily Hispanic Population as seen at Olive View Medical Center, will not only evaluate the incidence of celiac disease in multiple groups of patients at Olive View – UCLA Medical Center; it also has the potential to raise awareness of the disease in the academic community and among physicians who treat patients in this population.
For almost 25 years, Celiac Disease Foundation has sought to do just that for a condition of which an estimated 83% remain undiagnosed or misdiagnosed. CDF's Chief Executive Officer, Marilyn Geller, explains how, "This study speaks to the heart of our mission of increasing the diagnosis rate of celiac disease and assuring treatment. Not only will patients be diagnosed, but they will receive follow up care, including a dietitian to educate them on how to maintain a strict gluten-free diet on a limited budget."
Ms. Geller makes a poignant case by asking "Why do we allow millions of children and adults to suffer when a simple blood test exists to screen for celiac disease?"
A gift from the Simon Family Foundation made it possible for CDF to fund the study.
Dr. Guarav Singhvi, the study's chief investigator, pointed out that "The incidence of celiac disease has not been well defined or well studied in our patient population. Patients who meet certain clinical criteria are eligible for this study. Those who are diagnosed with the disease will be counseled on the appropriate dietary treatment needed for this condition."
Dr. Singhvi expressed the sentiments of the hospital and his colleagues by adding "We are very grateful to the Celiac Disease Foundation for their gracious support and generosity and look forward to testing for this treatable condition at our institution."
CDF is committed to increasing awareness of celiac disease at both the public and healthcare provider levels. It has set the goal of sponsoring Grand Rounds and educating at least 500 physicians by the end of 2014.
To learn more about celiac disease or CDF visit http://www.celiac.org.
For more information about Olive View – UCLA Medical Center visit http://www.uclaoliveview.org/ovucla.html.
About Celiac Disease Foundation: CDF is a non-profit corporation founded in 1990 and dedicated to remaining at the forefront of providing services and support regarding celiac disease and dermatitis herpetiformis through its awareness, education, advocacy and research programs. CDF is a founding member of the American Celiac Disease Alliance (ACDA) and is actively involved with the National Institutes of Health (NIH) Celiac Disease Awareness Program.
About Olive View – UCLA Medical Center: OVMC is a 355-bed general acute care hospital located in the San Fernando Valley area of Los Angeles County. The original hospital was founded in the 1920's as a tuberculosis sanatorium. Once drugs to treat TB were discovered in 1947, the need for a sanatorium decreased dramatically and, in 1959, Olive View became a general acute care hospital.
The hospital is affiliated with the David Geffen School of Medicine at UCLA and provides postgraduate physician residency training in 22 specialties and trains over 200 residents each year. Olive View-UCLA Medical Center is a safety net hospital operated by the Los Angeles County Department of Health Services. The hospital serves primarily a Latino patient population, which makes up close to two-thirds of its patients.
###