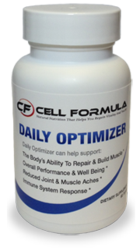 An all natural testosterone enhancing supplement is now available from health and wellness company, True Healthy Products to fight symptoms of low testosterone levels and for a limited time, comes with a free natural energy supplement to fight fatigue.
(PRWEB) March 11, 2012
Natural health and wellness products provider, True Healthy Products, now has a testosterone boosting supplement called Daily Optimizer from the company's Cell Formula product line. For a limited time, with every purchase of the Daily Optimizer, a free bottle of the natural energy supplement Pure Energy, also from the Cell Formula line is available.
The company offers a free detailed report on all of the components in the Cell Formula product line on their website http://www.cellformula.com/report
The Daily Optimizer and Pure Energy supplements compliment each other because many symptoms of low testosterone levels center around energy levels and fatigue. Symptoms of low testosterone levels include: fatigue, loss of strength, loss of stamina, decreased energy levels, loss of muscle mass, decreased stimulation and softening of bone tissue.
"I don't use typical energy drinks because I know what they do to the body, they are generally harmful to the body. Most energy products I have seen are forcing the body to do something that it is physically not able to do. So if you are tired and you are taking energy drinks to get un-tired you are forcing the body to do something it is not able to do. A product like Cell Formula Pure Energy is natural and enables the body to run through its normal biological process, you are enabling the body or assisting the body to function. There are no setbacks or downsides to a product like Pure Energy this is why you feel the response of more focus, heightened energy with no jitters or crash." - Dr. S. Gregory PHD, ND
According to the formulator, the Cell Formula's Daily Optimizer and Pure Energy supplements will help aid in:

Improved Rest & Recovery
Muscle Growth & Retention
Increased Energy & Endurance
General Health & Well Being
Reduced Joint & Muscle Pain
About True Healthy Products
Since 2007, True Healthy Products has been a seller of all natural vitamins, supplements and fitness nutrition. Since that time, the company has expanded their product line to include all natural skin care, natural dark chocolate and preventative health remedy products.
From:
True Healthy Products
Contact:
True Healthy Products
2460 N. Courtenay Pkwy, 210
Merritt Island, FL 32953
888-400-2920
http://www.truehealthyproducts.com