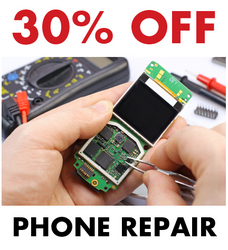 Glendale, CA (Vocus) October 13, 2010
CellularDR.com, the leader in the cellular phone repair and replacement parts industry has just lowered their cell phone repair service fees by up to 30%. This comes in response to the growing need of affordability among the vastly growing cell phone user market. In general, new cell phones are very costly to purchase and usually come with a long term monthly monetary commitment for service. Having a cell phone that is damaged within the 2 year contract means a large out of pocket expense for a new replacement phone.
Do not buy a new cell phone; repair it instead. CellularDR.com has a new lower flat rate for cell phone repair and diagnostic. The only other cost that consumers could incur is the cost of the cell phone part if the part is severely damaged and must be replaced. The cell phone replacement parts offered by CellularDR.com are original manufacture cell phone parts and those that have undergone extensive testing and quality control to ensure proper functionality and longevity.
In addition to the saving, there are many other reasons why consumers should consider repairing a cell phone rather than purchasing a new one when possible. Many people do not realize how much time and money they have invested into their cell phones until it's too late. When purchasing a new cell phone, preferences have to be re-established, ring tones, games and apps have to be purchased, downloaded and installed again; not to mention entire address book contacts, quick dial settings and more. Just the cost and time savings of all the above is enough to favor cell phone repair over purchasing a new phone.
CellularDR.com also suggests taking the time to consider the history of the phone. When receiving a replacement phone from an insurance plan or purchasing a supposedly refurbished cell phone, consumers are ultimately getting a used phone. There is no telling what this used phone has gone through or how long it will last. Moreover, most cell phone insurance companies have a huge deductible ranging from $75 to $200 in addition to the monthly charge. If calculating all the costs over the life of the phone, a cell phone user could have fixed the current phone and saved a lot of money in the process.
The combination of affordability in cellular phone repair and the ease that CellularDR.com provides in their 3 step cell phone repair process, taking the time to see if repairing a cell phone is an option could save a lot of hard earned money. CellularDR.com can repair most cell phone makes and models including Apple iPhone, Rim Blackberry, HTC PDA smart phones, LG cellphones, Motorola, Nokia, Palm, Pantech, Samsung, Sidekick and Sony Ericsson.
For a complete list of services and details on specific selections, please visit http://www.CellularDR.com
About CellularDR:
CellularDR.com specializes in cellphone repair, cellular phone data retrieval, cell phone parts and accessories. Cell phone repair services and replacement parts are available on most popular models including Apple iPhone, Rim Blackberry, HTC, Kyocera, LG, Motorola, Nokia, Palm, Pantech, Samsung, Sidekick and Sony Ericsson. Same day service is also offered on most cellular phone repairs to local customers and fast online repair turnaround to all national customers.
Contact:
CellularDR.com
Local (818) 553-2700
Fax (818) 553-2702
http://www.CellularDR.com
###