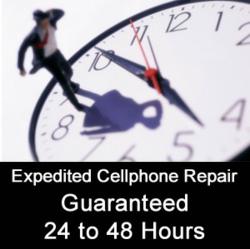 We will fix your cell phone and ship it back to you within 24 to 48 hours.
Glendale, CA (PRWEB) September 21, 2011
CellularDR.com, the leader in nationwide cell phone repair, has officially announced the newest addition to their online site – Expedited Cellphone Repair Services. This additional option is in response to customer demand for a faster priority repair service to fit their needs.
Selecting this option will guarantee that Cellular DR will diagnose and repair the cell phone within 24 – 48 hours from the time it is received. If the phone requires parts to be replaced, the customer will be contacted via phone and email to purchase the part(s) needed to complete the repair. Not all cell phone repairs require parts, but for those that do, customer part purchases made before noon will ensure the phone is sent back the same day; part purchases made after noon will be guaranteed for next day shipment.
The new option for expedited rush cellphone repair is seamlessly integrated into the site. This dropdown option is located within each repair service with the exception of "Water Damage Repair." For customers who would like to utilize this option, it is only an additional $15. For those that would like to forgo this option, they simply select "No Thanks." When weighing the low price point against not having a cell phone, most will agree that it is a small price to pay for the convenience and ability to bypass the hassles.
CellularDR.com provides immediate communication and information when dealing with Expedited Cell Phone Repair Services. Customers can rest assured that this new service will get their cell phones in proper working order in the shortest time frame possible. Over all, the expedited fast cell phone repair service from CellularDR.com is quick, convenient and very user friendly.
For more information regarding Expedited Cell Phone Repair Service, visit http://www.CellularDR.com
About The Company:
CellularDR.com is the trusted leader in providing cell phone repair, software upgrade, cellphone contact data transfer, cell phone repair parts, accessories and other cellular phone services both online and at their offices centrally located in Glendale, California serving the surrounding cities: Los Angeles, Pasadena, Burbank, La Canada, Studio City, Sherman Oaks, Santa Monica, Hollywood and North Hollywood. Services are provided on a variety of cellular phone makes and models including major brands such as Apple iPhone, Rim Blackberry, HTC, Kyocera, LG, Motorola, Nokia, Palm, Pantech, Samsung, Sidekick and Sony Ericsson cell phones.
Contact:
National Cell Phone Repair Hotline
Toll Free (877) 288-4488
Facebook
Twitter
###