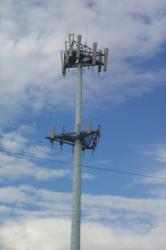 Atlanta, GA (PRWEB) March 14, 2013
Georgia's leading cell tower lease consulting company, is fed-up with some of the tactics used by companies attempting to purchase Cell Tower Leases therefore this is why they want to share the new found information on what to avoid when planning on selling a Cell Tower Lease or Cell Site Lease. Com-Serve specializes in helping their clients get the most money that they can, and with the best terms. They will help Cell Tower Lease owners in all phases of negotiations especially ones that you are getting taken advantage of.
Com-Serve wants folks to be aware that the companies that buy Cell Tower Leases will employ all kinds of tactics to get them to sign off on a Letter of Intent, or an Option To Purchase. Very often their sales force are trained to use intimidation by trying to convince people about "cell tower obsolescence risk", "cell site consolidation and merger risk", and the upside potential of partnering with their firm. Some companies want to do a buy-out over a period of time, but David Espinosa has the experience and knowledge to turn the deal into a large Lump-sum deal.
The company reports that these Cell Phone Tower Lease Buyout Companies are willing to pay a sizable amount of funds for Cell Phone Tower Leases, and Com-Serve will help maximize the payout. People that do not have proper representation very often sell for below market value. It would be wise to enlist the aid of a professional in this field, as there are many intricacies that a layman will not be aware of, and may be giving-up substantial dollars, and be signing-away future cash-flow possibilities.
David Espinosa has a proven track record, and is an expert in contract negotiations with cell tower carriers. Having helped thousands of clients over the years, David has seen it all, and knows what to look for to protect his clients, and help monetize their cell tower leases. He cautions cell tower lease owners not to fall for the line about how these buyers will help "market" their Cell Tower, and split the revenue.
For complete Information, visit the website: http://www.com-serve.com