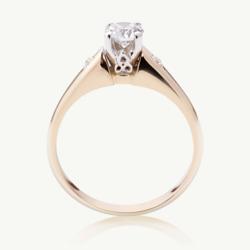 We are confident that our business is as competitive as any player in the market right now
New York, NY (PRWEB) November 20, 2012
This holiday season – recently launched online Celtic jewelry business 'Celtic Promise' offers perfect gifts for friends, family, or that special loved one. In addition, the company is offering free shipping and special holiday offers to entice customers and enhance customer satisfaction.
With the motto "heritage jewelry with a contemporary twist", the company showcases Ireland's most talented jewelry designers. The web based company takes a fresh approach to retailing Celtic jewelry, and offers fresh and uniquely crafted pieces to its customers that are typically only found in exclusive design stores and craft fairs.
In addition to their luxury packaging and handpicked jewelry collections, Company President, Siofra Hill is delighted to offer free shipping for the first time to customers in the US, UK and Ireland. "In an increasingly competitive market customers have come to expect free shipping, and we are excited to extend this offer to our audience this Christmas and beyond," says Hill, "We are confident that our business is as competitive as any player in the market right now."
With so many choices in a market flooded with gift options today, it can be difficult to find appropriate gifts for friends and family. Celtic Promise however, is confident that they offer perfect gifts to satisfy every need. "Our jewelry is not just beautiful, it is sentimental and meaningful too," Hill says, "Our Claddagh collection for instance symbolizes love, loyalty and friendship. These pieces communicate all of the most important elements of human relationships."
With gifts starting at $55, Celtic Promise offers a quick and convenient shopping experience. The site also offers high-end jewelry with price tags in the thousands. This Christmas the company hopes to be the Celtic engagement ring retailer of choice for many couples looking for beautiful symbolic ring designs.
You can expect to find a wide variety of unique jewelry designs on the site including Celtic wedding bands and engagement rings, men's cufflinks, personalized necklaces and more elaborate statement pieces. Anything you find will represent the Celtic heritage, which is the premise upon which the company is building the Celtic Promise brand.
For more information on Celtic Promise you can visit their website at CelticPromise.com.
About Celtic Promise
Founded in 2010, online retailer Celtic Promise was started by Irish born entrepreneur Siofra Hill. The website CelticPromise.com promotes the talents of Irish jewelry designers to an International audience. With a product offering of over 700 traditional Celtic jewelry and contemporary Irish jewelry products, Celtic Promise has quickly become one of the leading Irish jewelry companies selling online in the US and Internationally.