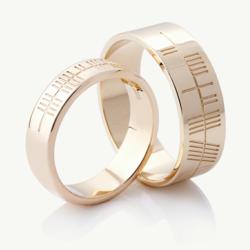 An engagement or wedding ring purchase is such a personal investment that customers take time to seek out unique and meaningful hand crafted designs.
New York, NY (PRWEB) February 28, 2013
Leading online Irish jewelry store 'CelticPromise.com' have reported a strong increase in Celtic wedding ring and Celtic engagement ring sales in the opening months of 2013. Offering Celtic knot, Claddagh and contemporary Irish jewelry designs, the store's selection of wedding jewelry combines traditional Celtic craftsmanship and culture with a more modern aesthetic.
"An engagement or wedding ring purchase is such a personal investment" says Celtic Promise co-founder Siofra Hill, "that customers take time to seek out unique and meaningful hand crafted designs".
With so many choices in a market flooded with wedding jewelry options today, it can be difficult to find the perfect engagement ring or wedding band. Celtic Promise however is confident that they offer a select choice of rings to satisfy the discerning customer. "Our ring selection is not just beautiful, but it is sentimental and meaningful too" adds Hill.
Celtic Knot Rings - Celtic Promise has seen high demand for its Celtic Knot Ring designs. With no beginning and no end, the finely detailed Celtic knot ring is symbolic of eternal love. The store's Modern Trinity Rings featuring a subtle trinity knot design are amongst the store's best sellers, with the promise to love, honor and protect.
Claddagh Rings – The iconic Irish Claddagh ring symbolizes love, loyalty and friendship. These pieces communicate all of the most important elements of human relationships. The store's selection of Claddagh engagement and wedding band designs offer a unique, contemporary take on the traditional Claddagh ring featuring a heart, crown and hands.
Personalized Wedding Rings – Over the past year, the store has seen a big increase in sales of personalized jewelry including Ogham engraved wedding bands. Stylish and sleek in appearance, these rings are engraved with a personalized message in the ancient linear script including the names of the bride and groom and wedding date.
Bespoke Rings – "Many men come to me in search of advice when looking for the perfect ring", says Hill, "We love to help out with such an important purchase, and work with the customer and designers to find that perfect piece". Recent commissions have included bespoke engagement and wedding rings by Galway designer Caroline King, and simple bespoke wedding band to compliment a family heirloom engagement ring.
With the motto "heritage jewelry with a contemporary twist", the company showcases a selection of Ireland's leading jewelry designers. The company ethos is to seek out uniquely crafted pieces to its customers that are typically only found in exclusive design stores and local Irish craft fairs.
Discover more at CelticPromise.com
About Celtic Promise
Founded in 2010, online retailer Celtic Promise was started by Irish born entrepreneur Siofra Hill. The website CelticPromise.com promotes the talents of Irish jewelry designers to an International audience. With a product offering of over 700 traditional Celtic jewelry and contemporary Irish jewelry products, Celtic Promise has quickly become one of the leading Irish jewelry companies selling online in the US and Internationally.