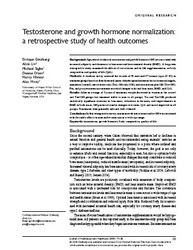 Phase three is going to be a more extensive analysis
Las Vegas, NV (PRWEB) October 15, 2008
Cenegenics® Medical Institute, global age management medicine leader, released encouraging findings from their study on testosterone and growth hormone normalization for documented clinically deficient adults, published in the Volume 2008 Journal of Multidisciplinary Healthcare, a peer-reviewed, online scientific journal of Dove Open Access. The study is called "Testosterone and growth hormone normalization: a retrospective study of health outcomes."
The findings are from phase one of the three-phase retrospective study, a collaboration between Cenegenics Education and Research Foundation (CERF) and two recognized professors from the University of Miami - Miller School of Medicine: Enrique Ginzburg, MD, FACS, and Nancy Klimas, MD. CERF is the nonprofit arm of Cenegenics® Medical Institute.
"There was a fair interest on my behalf and Dr. Klimas's behalf to look at probably one of the most comprehensive practices in age management medicine in the country over the last seven to nine years to formulate outcome measures retrospectively," said Ginzburg, who was the study's principal investigator.
The retrospective study surveyed 91 men and 97 women, ages 25 to 82, who were treated over a three-year period for clinically documented hormone deficiencies, testosterone and/or growth hormone. They were compared with controls to evaluate the treatment regimen's effect on body mass and whether there are differences among these groups.
Researchers established an organized database to determine outcome measures on bone density, Beck depression and lean body mass as well as review markers, such as PSAs (prostate-specific antigen to help mark prostate cell activity).
In phase one, positive results showed a significant improvement in the effects of Beck depression tests and quality-of-life tests with the use of hormone normalization along with improvement in lean body mass, decreased percentage of adipose tissue and increased bone density in men and women across a wide age range.
Cenegenics signed a two-year agreement with Ginzburg and Klimas for completing phases two and three.
Phase two will look at overall safety issues with regards to tumor formation as compared to a normal population.
"Phase three is going to be a more extensive analysis," Ginzburg said. "We really need larger numbers to make it significant in respect to the findings."
Dr. Enrique Ginzburg is a professor of surgery at the University of Miami - Miller School of Medicine's Divisions of Trauma and Surgical Critical Care. He is also the medical director at the International Health Center and co-director at the Neuroscience Intensive Care.
Dr. Nancy Klimas is a recognized leader and a champion of research in chronic fatigue syndrome. She is a professor of medicine, psychology, microbiology and immunology at the University of Miami - Miller School of Medicine and the Miami VA Medical Center.
Review the study at http://www.doveoa.com by clicking on the Journal of Multidisciplinary Healthcare link. For more information about Cenegenics, please visit http://www.cenegenics.com. Register for quick access to the informative Guide to Healthy Aging, Executive Summary and GQ article excerpt. To schedule an interview, please contact Ann Castro, Cenegenics Director of Public Relations: 702.953.1588 or acastro @ cenegenics.com.
About Cenegenics
Cenegenics® Medical Institute, recognized leading authority in age management medicine, has centers in Las Vegas, Nevada; Charleston, South Carolina; Boca Raton, Florida; Bloomington, Indiana; Dallas/Fort Worth, Texas; Atlanta, Georgia. More new centers are scheduled to open in major metropolitan areas throughout 2009. With an established presence in the medical community, Cenegenics uses a proactive approach based on solid science and comprehensive evaluation. Their established protocols have been recognized as the next generation of medical science, capturing global attention. Cenegenics offers CME-accredited physician training and certification opportunities in age management medicine via the nonprofit Cenegenics Education and Research Foundation (CERF). Headquartered in Las Vegas, Cenegenics serves more than 15,000 patients worldwide--1,500 are physicians and their families.
###