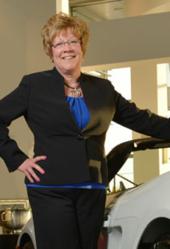 Her role is much more than managing our Fiscal Fitness. She influences not only our JFC work family but also the tens of thousands of customers we help each year. In my mind, Reichelderfer should be canonized as a Saint.
Harrisburg, PA (PRWEB) March 29, 2013
JFC Staffing Companies announces the selection of Cathy Reichelderfer, Chief Financial Officer, as a finalist in Central Penn Business Journal's annual CFO of the Year Awards as well as being named to the Top 25 Women of Influence.
Reichelderfer was nominated for her integrity, trustworthiness, compassion, and strong Customer Commitment.
Reichelderfer has worked at the JFC Staffing Companies since 1990. She manages all of the financial aspects for multiple corporations including money management, financial reporting, bookkeeping, payroll, accounts payables/receivables, 401k profit sharing plan, corporate tax returns and audits from the workers compensation bureau, our CPA firm, the department of labor and the State sales and use tax division.
She is an expert in the legal arena as it relates to the Fair Labor Standards Act and the payment of employees. She not only ensures that JFC is in full compliance but has been able to offer advice to our clients regarding the same. She has consulted several local companies on the regulations regarding the payment of bonus and the difference between discretionary and nondiscretionary awards.
"Without her the JFC Staffing Companies would not be where we are today," said Jim Carchidi Executive Vice President of the JFC Staffing Companies. "Her role is much more than managing our Fiscal Fitness. She influences not only our JFC work family but also the tens of thousands of customers we help each year. In my mind, Reichelderfer should be canonized as a Saint."
Outside of the JFC Staffing Companies, Reichelderfer is an avid volunteer. She spends time as a Eucharistic Minister for Our Lady of Lourdes Church. Cathy also delivers Eucharist to Emeritus of Creekview which is an assisted living and Alzheimer's care community; she visits weekly and has developed relationships with several of the residents who look forward to her time.
The CFO of the Year award is a regional program to celebrate the work of financial officers, who are vital to the success and stability of businesses, as well as the region's overall economic growth.
The Women of Influence awards program recognizes women business leaders who are influential in their companies, industries and communities.
About The JFC Staffing Companies:
Founded in 1975, The JFC Staffing Companies, with offices throughout Central Pennsylvania, are comprised of full-service, temporary staffing and professional search firms that help individuals by catering to both workers seeking employment and employers seeking workers. JFC is well known for their specialized recruiting, customer relationships and responsiveness. JFC's experienced recruiters offer their expertise to match qualified job seekers with employers through innovative, cutting-edge service and value-added programs that led area business journals to name The JFC Staffing Companies the #1 independent staffing firm in the Central PA region.
JFC Temps offers a huge variety of office support jobs, including secretaries, receptionists, telemarketers, data entry operators, customer service representatives and administrative assistants. In the light industrial and skilled labor fields, JFC offers inventory control, production, assemblers, quality assurance, bindery and more on a temporary, temp to hire and permanent basis.
JFC Global focuses on information technology, accounting, finance and engineering and staffs positions on both a contract and permanent basis. JFC Global has received the WBE certification through the Department of General Services of PA.
JFC Medical fills many healthcare jobs in Central PA including executive healthcare as well as physicians, RNs, LPNs, medical support positions, medical assistants, medical billers, medical receptionists, and medical secretaries.
JFC Skilled Trades focuses on recruiting skilled labor for both temporary and permanent positions. Positions are currently open for CNC machinists, welders, electricians, maintenance technicians, and HVAC Technicians.
The JFC Staffing Companies have six convenient locations in Central Pennsylvania.
Camp Hill Office - 717-761-8095
Carlisle Office - 717-243-4475
Chambersburg Office - 717-709-9675
Harrisburg Office - 717-657-4923
Lancaster Office - 717-399-6474
York Office - 717-755-3100