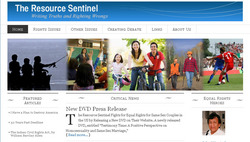 saving the sports fishing tourism economies will contribute greatly to the local quality of life. Fish farming will add new jobs and markets for agriculture, a win-win solution for everybody.
Hopkins, MN (PRWEB) March 27, 2009
Howard Hanson, founder of the advocacy group The Resource Sentinel, is extending an invitation to President Obama or a representative to attend the upcoming Citizen's Equal Rights Alliance (CERA) Conference beginning March 29, 2009 in Washington, DC, to address the issues surrounding Minnesota tourism, such as gill netting, Indian gambling revenue problems, and other supposed equal rights legislation that in reality infringes upon the rights of citizens. The Resource Sentinel serves to alert and educate the public on these negative policies that are being enacted on their dime.
Hanson's invitation to President Obama includes a fact sheet that outlines the issues at hand and illustrates how broken promises and strange bedfellows have created a good versus evil battle playing out in Minnesota and across the nation. He encourages Obama to consider that Indians' rights, as well as the rights of all citizens have been compromised by the questionable cooperation of the mob, various churches and 501(c)(3) non profit groups, bureaucrats, and the wealthy "soft money" contingency.
According to Hanson, "Minnesota tourism has been pummeled by groups, such as the Environmental Protection Agency and the Department of the Interior, taking away citizens' rights to manage their own local resources. This is also largely due to the gill netting over-harvest; Mother Nature cannot provide enough fish to support this." At one time, there were more than 5,000 resorts supporting Minnesota tourism and sport fishing as well as providing local jobs, and that number has now been reduced to fewer than 900. Rather than having tribes gill netting, Hanson has strongly urged President Obama for an investment in aquaculture, a much needed new industry. Hanson is a strong adv of aquaculture and points out that, "saving the sports fishing tourism economies will contribute greatly to the local quality of life. Fish farming will add new jobs and markets for agriculture, a win-win solution for everybody."
Hanson further claims that government policies intended to extend equal rights to Indians have served only to encourage gambling, organized crime, and drug abuse, thereby threatening and virtually eliminating the rights of these citizens. Recent drug busts on reservations in New York, Wisconsin and Minnesota linked to organized gang activity have been widely reported in the national media. CERA contends that Federal Indian Policy is unaccountable, destructive, racist and unconstitutional.
"These policies have taken away the interests of all private landowners living in or near so called Indian country, leaving them without a voice in managing their local resources, governments, and economies. The net result is the destruction of the level economic playing field envisioned by our early leaders," Hanson further elaborates.
Hanson has been working with CERA to expose these questionable relationships. By calling the President Obama "change plan" into question, Hanson and CERA hope to expose and abolish these detrimental partnerships and return rights back to hard working citizens.
For more information about this invitation, the current discrepancies called into question, and the upcoming CERA conference, visit The Resource Sentinel.
About Howard B. Hanson and The Resource Sentinel:
After retiring in 2004, Hanson committed himself to public service through The Resource Sentinel. Hanson became involved in politics in 1979 and found growing frustration with the political control in the media, corrupt politicians, and laws that infringed on equal rights. Hanson formed The Resource Sentinel and the Resource Party in 1994 to shine a light on examples of political bias in the media and to fight for laws that protect our founding documents and ensure equal rights for all.
###