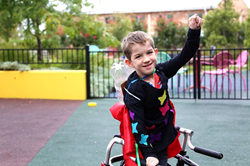 Our research into chronic pain could mitigate, if not completely eliminate this common factor among those with cerebral palsy.
NEW YORK (PRWEB) November 29, 2018
Cerebral Palsy Alliance Research Foundation (CPARF) is announcing a bold mission to alleviate and treat chronic pain without opiates. This new and unique approach to the pathophysiology of pain in cerebral palsy will devise tailored treatments to reduce or eliminate chronic pain for both children and adults.
According to CPARF's Medical Director, Dr. Jim Blackman, "Our research into chronic pain could mitigate, if not completely eliminate this common factor among those with cerebral palsy. In too many cases, the pain is treated while the quality of life is worsened. The effects of opiate addiction outweighs pain management."
"The number and variety of symptoms that result in discomfort requires focused and extensive research into the causes and patterns of pain. Our researchers are committed to identifying new ways to treat and relieve chronic pain other than through opiates," said Nadine Dehgan, the newly appointed CEO of CPARF.
Rapid development of treatment alternatives is urgently needed to minimize addiction, improve and save lives and reverse the opiate epidemic. Over the next three years, the foundation's initiatives will be centered on treatment, intervention, prevention and cure, including:

Funding research at top U.S. institutions, including a recently launched study at Johns Hopkins, to fully understand the different pathophysiology and presentations of chronic pain.
Spearheading a research team of leading chronic pain and cerebral palsy clinicians, researchers, and experts in a team-science model that fosters rapid progress.
Collaborating with academic, business, pharmaceutical and healthcare sectors to develop clinical research protocols and accelerate new treatments to market.
Eradicating chronic pain through prevention and state-of-the-art treatment without the use of opiates.
"For most individuals, pain is a relatively short-term phenomenon related to illness, injury or medical procedures. However, individuals with cerebral palsy commonly develop excruciating pain syndromes resulting from persistently spastic muscles, abnormal forces on muscles and joints, atypical postures, and gastrointestinal disturbances," said Dr. Blackman.
About CPARF
Cerebral Palsy Alliance Research Foundation was established in the United States in 2015 to fund the world's best research to treat, prevent and ultimately find a cure for cerebral palsy. The foundation has a strong commitment to funding high quality research in cerebral palsy, collaborating with researchers across the United States, and sharing their information globally. 58% of the most effective cerebral palsy treatments have been discovered in the past 10 years thanks to the collective efforts of the international cerebral palsy research community.
To learn more about how CPARF is committed to preventing future suffering for people with cerebral palsy visit http://cparf.org or contact info@cparf.org.