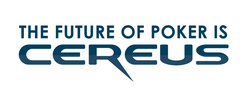 Miami, FL (PRWEB) December 11, 2008
The CEREUS poker network today announced a series of new features and tweaks that will be immediately available to players on both Absolute Poker and UltimateBet. The new features, which arrive in response to feedback generated from the third largest online poker community, include:

Game Speed Increase - The speed of the game, including the dealing of the hand and the final hand result, has been significantly increased.
Buddy Max Limit - The previous cap of 500 players on both UltimateBuddy and Absolute Buddy has been quadrupled to 2000.
Heads Up Kick Off Limit - A new 5-minute rule has been applied to the 'Sit Out' function of heads-up matches (ring games only) to provide a more enjoyable experience for poker fans.
Disable Enter to Bet - Players can now disable the 'Enter to Bet' function to avoid accidentally betting while switching between programs.
Remember Login - If a player successfully logs in but does not use the 'Remember Password' feature, the software will remember the last successful login name.
Disable Blackjack on Table - Players will now be able to disable blackjack from individual tables instead of just disabling it globally.
CEREUS, which launched to rave reviews on November 25th after more than 12 months of development, delivers a secure, responsive and flexible online poker gaming experience to members of the UB and AP communities. The new poker platform is backed by leading technology and a 24/7 Security Center to deliver a watertight gaming experience for everyone at the tables.
The new tweaks arrive just two weeks after countless new additions were introduced to both poker sites including: new table views; downloadable table skins; the ability to create private tournaments; final table deal making; a rabbit cam; a timebank; avatars and personalization tools; and more.
A complete rundown of CEREUS and the new features immediately available to all players through the expanded poker network can be found at absolutepoker.com and ultimatebet.com.
About UltimateBet
Designed with the assistance of the best poker players in the world - Phil Hellmuth and Annie Duke - UltimateBet provides the best poker games available on the net through the CEREUS poker network. Players can download the free poker software, play in free ring games and tournaments and get tips from these pros to learn the sport or to enhance their playing strategy.
About Absolute Poker:
Absolute Poker is part of the CEREUS poker network and is dedicated to providing players from around the world with an online poker game experience that is second to none. Players worldwide can access Absolute Poker online 24 hours a day, 7 days a week from any PC or Mac and experience the best multi-player game online poker has to offer. Absolute Poker is committed to remaining the most trusted and best online poker experience, created by poker players for poker players.
###