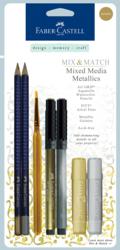 Cleveland, Ohio (Vocus/PRWEB) January 27, 2011
Faber-Castell is delighted to introduce an engaging new product line for crafters - design • memory • craft. Thoughtfully designed around a MIX & MATCH concept, these new assortments make crafting with color simple yet inspirational. Paper crafters at all skill levels are always interested in learning new techniques, yet sometimes aren't confident in their choices in mixing and matching colors. design • memory • craft products provide pre-selected color palettes that give all crafters the opportunity to create with confidence knowing the colors and mediums will work beautifully together.
Mix & Match makes it easy to learn new techniques, explore with mixed media, and take all your design, memory, and craft projects to the next level. Rich with pigments and available in a wide array of colors, Faber-Castell's quality products ensure a quality crafting experience. Chose a color palette, choose a medium, then Mix & Match as you like – these products make designing with color simple.
The design • memory • craft product line includes Art GRIP® Aquarelle Watercolor Pencils, Stamper's Big Brush Pens, PITT Journal pens, Pastel Pencils, the brand new Gelatos and new colors of Metallic India ink, plus sampler sets, creative kits, and more. The appealing packaging is inviting, and the color dot system makes color matching effortless.
There's also a new design team to inspire you with their ideas, innovative techniques, and general creativity. Join us on a creative journey at http://www.designmemorycraft.com. The site features projects, techniques, and community events around the country – and make sure to check out our blog full of cool crafting information, plus the video gallery to see projects other crafters have done using Faber-Castell products.
# # #