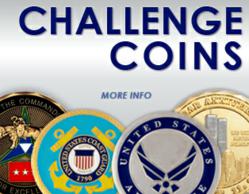 during the past 2 months we have been commisioned to design and manufacture a record number of coins specially designed for Veteran's Day events
(PRWEB) November 08, 2012
Initial sales figures and forecast from PinMart, Inc. point to Challenge Coins as being the gift of choice this Veteran's Day for commemorative events and celebrations. In terms of patriotic gift giving the typical flag pin still reigns supreme but commemorative coins are making headways in the enthusiastic military following. Veteran's Day has a history dating back to 1919 when Woodrow Wilson first proclaimed Armistice Day November 11 with this speech:
"To us in America, the reflections of Armistice Day will be filled with solemn pride in the heroism of those who died in the country's service and with gratitude for the victory, both because of the thing from which it has freed us and because of the opportunity it has given America to show her sympathy with peace and justice in the councils of the nations."
Although Armistice Day was originally intended to honor WWI veterans, an act of Congress in 1938 changed the official holiday to Veteran's Day honoring all military veterans. Veteran's Day has historically been a popular sales time for emblematic products like lapel pins, emblems, custom coins, and patches; this year however seems to be the year of the challenge coin. For 2012 PinMart introduced a new line of military challenge coins designed for veterans of each of the 4 military branches and the US Coast Guard. According to PinMart "We have noticed a significant increase in the sales of challenge coins this year, and during the past 2 months we have been commissioned to design and manufacture a record number of coins specially designed for Veteran's Day events".
PinMart, Inc. is a privately held company located in Mount Prospect Illinois, a suburb of Chicago, specializing in the design and manufacture of challenge coins and emblematic jewelry, both domestically and abroad. In 1999 PinMart was a pioneer on the web with one of the first ecommerce websites in its industry. Since that time PinMart has taken advantage of its well positioned internet presence and now boast a client list that includes over 300 of the Fortune 500 companies.