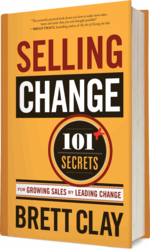 Selling Change is the go-to handbook for leadership in this decade." —Independent Publisher Book Awards
Seattle, WA (PRWEB) May 09, 2012
Today, change leadership expert, Brett Clay, began publishing one chapter every week from his book, "Selling Change, 101+ Secrets for Growing Sales by Leading Change," on his Change Leadership Group blog.
"Selling Change," has won numerous awards, including awards for best management and leadership book and best sales book of 2010, and has been published in 6 languages. The book comprises 107, easy-to-read chapters, or "secrets."
"'Selling Change' is an outstanding leadership handbook that all salespeople, managers, and executives should read," said Jeff Keen, president and CEO of USA Book News
"Do you think change is scary and borders on impossible? Think again. 'Selling Change' shows how to more effectively sell your ideas, products, and services to your employees, stakeholders, and customers. Author, Brett Clay, has translated the complex and abstract principles of change psychology into an easy-to-read, fun, and practical format that business leaders and salespeople are sure to find valuable," said Jim Barnes, awards director, Axiom Business Book Awards.
Readers may subscribe to the blog where the book chapters will be published: http://feeds.feedburner.com/changeleadershipgroup.
'Selling Change, 101+ Secrets for Growing Sales by Leading Change', by Brett Clay, Non-fiction, Hardcover, $22.95, ISBN 978-0982295236, Available wherever books are sold. Volume purchasing available through 1-800-CEO-READ.
About the Author.
Brett Clay, author of 'Selling Change', is the CEO of Change Leadership Group, LLC, a firm that helps clients improve their sales, marketing, and leadership capabilities. A veteran of 20 years in international sales and marketing management, most recently with Microsoft Corporation, he is an award-winning author, award-winning marketer, trainer, speaker, consultant, and business leader. http://www.ChangeLeadershipGroup.com.