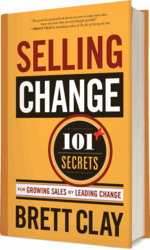 If you want to be in high-demand, read this book!
-- International Book Awards
Seattle, WA (PRWEB) September 27, 2012
Adding to a growing list of awards,"Selling Change, 101+ Secrets for Growing Sales by Leading Change," by Brett Clay, was named the Best Sales Book of 2012 by International Book Awards. Brett Clay is founder and CEO of Change Leadership Group and is the creator of the Change Leadership Framework(R) and Clay Change Type Indicator(R).
"Selling Change is a timeless, must-read handbook of leadership that all sales people and leaders should have at their side. Written and packaged for daily reference and inspiration, it shows how to harness motivations and lead changes that delight clients and stakeholders. If you want to be in high-demand, read this book," said Jeffrey Keen, President & CEO, JPX Media Group, parent of International Book Awards.
"I wrote this book for busy leaders, managers, and sales people who want to get the key ideas quickly and easily. But, make no mistake. The 101+ leadership principles in 'Selling Change' are powerful. I have personally witnessed executives and companies fail dramatically when they violated just one of these principles. I have also witnessed executives become billionaires. That is why I am so passionate about helping people follow these principles and become effective change leaders," said author, Brett Clay.
"Selling Change" describes the five disciplines of Clay's Change Leadership Framework(R). It is organized into two-page chapters, or "secrets," that include "What I Need to Know", "What I Need to Do," a three-item Action Summary, and an illustration. The book also won an award for the illustrations.
PRAISE FOR SELLING CHANGE
"Do you think change is scary and borders on impossible? Think again. Selling Change shows how to more effectively sell your ideas, products, and services to your employees, stakeholders, and customers. Author, Brett Clay, has translated the complex and abstract principles of change psychology into an easy-to-read, fun, and practical format that business leaders and salespeople are sure to find valuable," said Jim Barnes, awards director, Axiom Business Book Awards.
"'Selling Change' is an outstanding leadership handbook that all salespeople, managers, and executives should read," said Jeff Keen, president and CEO of USA Book News.
"'Selling Change' is a handbook that shows how to lead customers or stakeholders through change and create high value for them in the process—and that's why it's a must-read for salespeople and business executives in 2011," said Gerhard Gschwandtner, publisher, Selling Power Magazine.
"The most value is created by driving change. But now, it's not a luxury—it's survival. Read this book and thrive!" said Jeffrey Hayzlett, former CMO of Eastman Kodak, change agent, and best-selling author of The Mirror Test.
''This is the first POSITIVE book about change in a decade ... at a time when we need it most! Buy it today, and implement it as fast as you can," said Jeffrey Gitomer, bestselling author of The Little Red Book of Selling.
''This powerful, practical book shows you how to make more sales, faster and easier than you ever thought possible!'' said Brian Tracy, bestselling author of The Art of Closing the Sale.
'Selling Change, 101 Secrets for Growing Sales by Leading Change', by Brett Clay, Non-fiction, Hardcover, $22.95, ISBN 978-0982295236; eBook, $9.95, ISBN 978-0982295243. Available wherever books are sold. Volume purchasing available through 1-800-CEO-READ. Also published in Portuguese, Simplified Chinese, Traditional Chinese, Polish, and Korean.
http://ChangeLeadershipGroup.com
About the Author.
Brett Clay, author of 'Selling Change', is the CEO of Change Leadership Group, LLC, a firm that helps clients improve their sales, marketing, and leadership capabilities. A veteran of nearly 25 years in international sales and marketing management, most recently with Microsoft Corporation, he is an award-winning author, award-winning marketer, trainer, speaker, consultant, and business leader. http://www.ChangeLeadershipGroup.com.
# # #