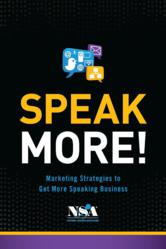 "Help customers achieve their goals and they will beg to give you their business." --Brett Clay, co-author, Speak More!
Seattle, WA (PRWEB) September 28, 2012
Marketing and sales expert, Brett Clay, announced the release of the National Speakers Association's flagship book "Speak More! Marketing Strategies to Get More Speaking Business," of which he is a co-author. While "Speak More!" details the strategies, tactics and wisdom necessary for professional speaking success, many small businesses will find the book applies equally well to them. The book is available to the 3,000 NSA members across the country on the Association's website, as well as through Amazon and other online bookstores.
"Speakers must adapt to the ever-changing marketplace," said Stacy Tetschner, Chief Executive Officer of the National Speakers Association (NSA). "Luckily, Speak More! gives speakers a detailed blueprint to boost business with a multi-faceted approach to the industry."
In Speak More!, 33 accomplished professional speakers share cutting-edge—but commonsense—approaches to help readers tap into multiple income streams. So what's stopping entrepreneurs from applying these principles to their business? Nothing. Whether they want to build a prominent online brand or create a publishing presence, Speak More! gives you actionable, effective tools to thrive. Sample chapters include "How Author and Book Platforms Lead to Rock-Star Branding"; "You're Hired! Using Sales and Marketing to Book More Speaking Gigs"; and "Go Global with Your Message."
"Speak More! embodies the very essence of what NSA is all about: incredibly accomplished and successful people telling you how they've succeeded, spilling the beans on their 'secrets,' giving away the very ideas and strategies that they use to create a competitive edge," said author Joe Calloway, CSP, CPAE. "If this book doesn't help your career, then you didn't read it."
The book includes expert advice from Seattle, Washington NSA member and contributor, Brett Clay, who brings nearly 25 years of marketing and sales management experience, most recently as a group product manager for Microsoft. Clay is also the host of The Actuation Zone radio show. His contribution to "Speak More!" is titled "Tune In to Opportunity: Marketing With Your Own Radio Show." "Today, companies must create remarkable online content to attract an audience of prospective customers, and multimedia content is especially effective. In Speak More! I describe how to create an online radio show that delivers remarkable, valuable content that brings people to your company," Brett Clay said.
For more information on Speak More! or if you are interested in writing a review, please call NSA headquarters at 480-968-2552, or visit the website at http://www.nsaspeaker.org.
About Clay
Clay is the author of "Selling Change," named the best sales book of 2012, and is the CEO of Change Leadership Group, LLC, a firm that helps clients improve their sales, marketing, and leadership capabilities. A veteran of nearly 25 years in international sales and marketing management, most recently with Microsoft Corporation, he is an award-winning author, award-winning marketer, trainer, speaker, consultant, and business leader. http://www.ChangeLeadershipGroup.com.
About The National Speakers Association
The National Speakers Association (NSA) is the world's largest, recognized authority for the profession of speaking. As a not-for profit association, NSA has over 3,000 members that include experts in a variety of industries and disciplines who reach audiences as trainers, educators, humorists, motivators, consultants, authors and more. Founded in 1973, NSA offers the highly acclaimed Certified Speaking Professional (CSP) certification, online education programs, award-winning Speaker magazine, Voices of Experience audio publication, conferences, networking, and research opportunities. They are also a member of the Global Speakers Federation. NSA has been featured on ABC, NBC, and in Forbes, Inc. Magazine, The New York Times, The Wall Street Journal, along with other business journals and leading industry publications.
To learn more about NSA educational programs and resource, please visit its website at http://www.nsaspeaker.org.