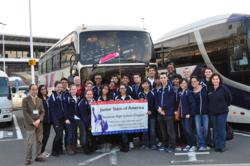 We did our jobs as members of the world community and didn't expect anything in return.-Shaun Sengupta, Secaucus High School Chapter President
Secaucus, NJ (PRWEB) March 29, 2013
Earlier this Month, students from the Secaucus High School JSA chapter were honored by the Japanese Government for their work with the recovery efforts following the 2011 Tsunami. As part of this honor, 22 students were sent to Japan where they met with survivors, and developed a plan to spread the word inside the US about the ongoing recovery of Japan.
This project began as the idea of a former Secaucus high school Chapter President, Thomas Abramowitz, who began "Operation Japan" in the wake of the March 11th, 2011 tsunami in Japan. The students from the chapter eventually collected 4 truckloads of clothes, toiletries, and other supplies to send to those affected by the tragedy. "We did our jobs as members of the world community and didn't expect anything in return," said Shaun Sengupta the current President of the Secaucus Chapter.
However, the students' efforts kicked off a long relationship between the grateful Japanese government and the students of Secaucus high school JSA. At first, the government sent 140 Japanese students to the Secaucus to thank the chapter for it's help, and in return for the chapter being such excellent hosts, 22 of the students, along with three chaperones were invited to visit Japan through the Kizuna Project to see the results of their work.
While there, the students participated in a number of humanitarian learning experiences as they viewed the fruits of their labor. The JSA members met survivors of the tragedy and got to hear their stories firsthand. Along with students from schools in Japan, the Secaucus students planted a garden as a spiritual memoir of the work they had done in helping the country recover. They also spent time planning out ways to share their experience here in the US.
Following their return from Japan, the cultural exchange continues, as 16 students from Japan recently attended the New Jersey Spring One-Day Conference in Princeton, New Jersey. The Secaucus students are also continuing to implement their plan to share their experiences and to emphasize the remarkable progress Japan has made since the March 11th, 2011 tsunami.
Junior State of America (JSA): Providing civics education and leadership programs for nearly 80 years, JSA is the largest student-run organization in the United States. School-year programs take place in more than 450 secondary schools in 35 states, with more than 10,000 members. The JSA program is supported by the Junior Statesmen Foundation Inc., a 501(c)(3) tax-exempt educational corporation, which provides guidance to JSA's student leaders. It has offices in San Mateo, Calif., and Washington, D.C. More information is available at http://www.jsa.org/ or jsa(at)jsa(dot)org.
###