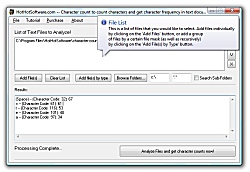 Los Angeles, California (PRWEB) March 04, 2013
New character counting software from HotHotSoftware produces automatic word count, character count for common file formats. Frequency counts are very good for research, statistical analysis of text documents, and even search engine optimization.
With this software, users may simply select multiple files from multiple sources, and insert them into the software. Files may be searched for recursively, or with wild card pattern matching. The user simply then clicks a button, and the results are displayed.
For more information, please click here.
About HotHotSoftware.com
HotHotSoftware is a company that specializes in developing various utilities, applications and solutions to help speed up development time, and increase personal and business productivity. Applications range from flash based applications, to Microsoft Excel, Word, and Access plugins, to utilities and custom software development. HotHotSoftware has been featured in various online and offline publications, websites, and editorial sites. For complete details, visit hothotsoftware.com.
In addition, companies that are looking for unique custom software and solutions can contact HotHotSoftware for a quote.