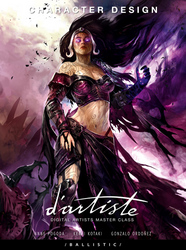 Adelaide, South Australia (PRWEB) April 6, 2011
d'artiste Character Design provides a Master Class in character design from talented artists working in game, TV and collectables. Each Master Artist shares their techniques and approaches for creating compelling characters through their insights and detailed graphic tutorials.
This new 208-page book features a wide range of character styles from fantasy, to game and manga-inspired creations. Kekai Kotaki shows you how he creates characters for ArenaNet's 'Guild Wars' RPG along with 36 character designs from 'Guild Wars', 'Guild Wars 2' and 'Guild Wars Nightfall'. Anne Pogoda shows you how to create character variations and how to rescue characters that aren't working. Gonzalo Ordoñez shows you how to create fantasy and manga-inspired characters drawing on his inspired work on trading card franchises like 'World of Warcraft' and 'Legend of the Five Rings'.
Inside d'artiste Character Design
Each Master Artist presents their character design techniques through a series of tutorials that start with an idea and step through the process of bringing the idea to fruition. The book is divided into three sections based around each Master Artist. Artists' sections include a personal gallery, the artist's work and thoughts in their own words, a large tutorial section, and an invited artist gallery featuring character work from some of the most talented character artists in the world. "The d'artiste series has helped tens of thousands of artists improve their skills with a unique mix of tutorials, production showcases from game and film, and an inspiring community of contributing artists. It's humbling to see the world's best artists share their knowledge with and inspire the artists who will follow in their footsteps in years to come," explains Daniel Wade, Publisher at Ballistic Publishing.
The heart of d'artiste series
Each featured artist in d'artiste Character Design draws on years of experience in the entertainment industry to deliver detailed tutorials on all aspects of character design. From the challenges of creating different types of characters, to creating variations, and saving designs that are not working, there is something for every character artist looking to improve their techniques and understanding of the craft.
Production focus: Guild Wars
d'artiste Character Design continues the d'artiste series' production focus with a behind-the-scenes look at the hugely popular 'Guild Wars' RPG series through Kekai Kotaki's amazing character designs. Kekai's personal gallery features 35 characters from 'Guild Wars', 'Guild Wars 2' and 'Guild Wars: Nightfall' showing a huge selection of fantasy characters for many character classes. Three expansive tutorials cover many of the techniques regularly employed by Kekai when creating characters for 'Guild Wars', and include 'Wild', 'Heroic' and 'Evil' character designs. Finally, Kekai's invited artist gallery features the work of fellow ArenaNet artists including Daniel Dociu, Horia Dociu, Richard Anderson, Levi Hopkins, and Donald Pham.
Exclusive Poster Offer
The first 200 customers to complete their purchase of d'artiste Character Design on the Ballistic Publishing website will receive a beautiful A3 poster featuring the work of Gonzalo Ordoñez. Offering a new level of presentation and quality, the unfolded A3 poster will arrive separately in a special flatpack poster mailer preserving the poster in its original condition.
About the artists
Kekai Kotaki was born and raised on the Big Island of Hawaii, and has always had a passion for art. Finding the sunshine and beautiful scenery distracting he moved to dreary Seattle in 2000 to attend art school. After graduating he joined ArenaNet, the makers of the 'Guild Wars' franchise as a texture artist. Through hard work and a little luck he moved into the role of concept artist. Kekai is now the Lead Concept Artist on Guild Wars 2, and also works with Wizards of the Coast on its trading card series like 'Magic: The Gathering'.
Gonzalo Ordoñez grew up in a port city in Chile with a love for games, comics, and manga. He spent his childhood years recreating his favorite characters over and over again, until he set off for art school in Santiago. With an emphasis on Design, Gonzalo decided that art education suited him better, and started his career as a teacher. Not long after, the call of exciting freelance work for his favorite game franchises drew him away from teaching, and he has since created memorable characters for well-known trading card games like 'World of Warcraft', 'Street Fighter', 'Legend of the Five Rings', and 'Ultimate Fighting System'.
Anne Pogoda attended Art Academy Berlin where she majored in Communication Design and Photography. She developed a fascination with digital illustration that took her on her current path that has included lecturing, many magazine workshops, and most recently a creative lead role at Germany's
biggest TV and film company. Anne's work can be seen in Germany's version of 'American Idol'
where she created and animated "Freddy the Frog" who is injured spectacularly every week on the show.
Pricing and Availability
d'artiste Character Design is available in two editions: Paperback with slipcase (USD$75); and Limited Edition (USD$170). More details about the books and availability can be found on the Ballistic Publishing website at: http://www.ballisticpublishing.com/books/dartiste/character_design/
Publication Details:

ISBN 978-1-921002-91-5 (Slipcased), 978-1-921002-90-8 (Limited Edition)
Pages: 208 pages (Slipcased) / 208 pages (Limited Edition)
Dimensions: 220 x 297mm
Editors: Daniel Wade, Anne Pogoda
Publisher: Daniel Wade
Shipping: May 2011
More details about the books and availability can be found on the Ballistic Publishing website at: http://www.ballisticpublishing.com/books/dartiste/character_design/
Praise for the d'artiste series
"d'artiste Character Modeling 3 is a superb addition to an already high quality series. If you are interested in character modeling, this book must be on your bookshelf. It will serve not only as a tutorial guide, but as a reference work as well. Can't recommend this book more highly."
d'artiste Character Modeling 3 review, Renderosity.com
"The d'artiste series has been running for a few years now under the slogan 'Digital Artists Master Class'. This is a big claim, but one that Ballistic consistently delivers on. The 'Invited Artist Gallery' sections are another example of the smart thinking that goes on at Ballistic. Not only do readers get the opportunity to see what is inspirational and exciting for the featured artists, but we also get commentary on many of these pieces. There is nothing quite like reading an accomplished creator examining the work of others."
Fred Galpern, VFX World
Other titles in the Ballistic Publishing catalog
Ballistic Publishing celebrates its eighth year creating the world's best digital art books, with the EXPOSÉ, EXOTIQUE, d'artiste, ESSENCE, and Art of the Game series to name a few. To see details of our more recent books like EXOTIQUE 6, EXPOSÉ 8, The Art of God of War III, The Art of UNCHARTED 2: Among Thieves, and The Art of Massive Black, visit the Ballistic Publishing Press Room: http://www.ballisticpublishing.com/press/
About The CGSociety and Ballistic Media
Ballistic Media operates two major divisions--The CGSociety and Ballistic Publishing. The CGSociety is the world's largest society of professional digital artists and provider of forums, portfolios, training, job and event services for the digital arts industry. Ballistic Publishing is the leading, independent publisher of books for the digital arts industry. Dedicated to publications of the highest quality and celebrating the talents of digital artists worldwide, Ballistic has set the benchmark as a quality boutique publisher. Ballistic Media is based in Adelaide, South Australia, with offices in Melbourne (Victoria, Australia) and Tampa (Florida, USA).
Digital assets (covers, sample spreads, press releases)
Digital assets can be downloaded from: http://www.ballisticpublishing.com/press/
# # #