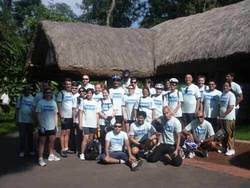 'Those who get involved in Cycle India 2012 will not only be contributing to an extremely worthwhile cause, they will also experience a truly unique country, meet new people, and get fit all at the same time.'
(PRWEB) January 23, 2011
Conservatory Outlet MD Matthew Glover has shown that he has no intention of slowing down his charity work by announcing the date for the next Cycle India fundraising event.
Cycle India 2012– the third event of its kind following successful rides in both 2008 and 2010 – will take place between 31st December 2011 and 9th January 2012 in the south-western state of Kerala. The 2012 ride is being organised by Heal – Health and Education for All – a UK registered charity which provides shelter, education and healthcare for underprivileged children in India.
On top of being the Managing Director of the UK's fastest growing network of conservatory dealers, Matthew is also Head of Fundraising for Heal UK and has been instrumental to the charity's success since he became involved over 5 years ago. He is now calling upon his industry peers to join him on the +200 mile bike ride: 'we're looking for around 30-40 participants from the UK, and I'd love to see the window industry have a strong presence within this group,' said Matthew.
'Heal's aim is to help over 10,000 children escape poverty by 2015. We've gone some way to doing this already by funding children's villages, health centres, schools and hostels, but there is still a great deal of fundraising and work to be done.'
'Those who get involved in Cycle India 2012 will not only be contributing to an extremely worthwhile cause, they will also experience a truly unique country, meet new people, and get fit all at the same time.'
With no paid staff at Heal, or any administration fees, almost all of the funds raised from such events go towards helping the country's youth get the best start in life possible. The previous Cycle India rides have raised and combined total of £180,000 and Heal is now responsible for the education and welfare of over 1000 children.
The fundraising target for Cycle India 2012 has been set at over £100,000 just from the UK, meaning that Matthew has a very busy year ahead of him. Similarly, Heal USA – the America-based fundraising team – aim to generate at least $100,000 from their efforts.
'Our targets are ambitious', said Matthew. 'But having seen the huge difference that this money makes to so many young people, and knowing the calibre of people involved with Heal, I have no doubt that we will achieve these targets.'
Readers interested in learning about or getting involved with Cycle India 2012 should email Matthew at matthew@conservatoryoutlet.co.uk , and visit http://www.heal.co.uk.
# # #