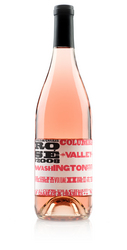 In the late 90's it was only top tier shops that would carry any rosé at all
Mattawa, Washington (PRWEB) March 24, 2009
How many guys named Charles does it take to make a good pink wine? Two should be just right, especially if both are among the more dynamic American wine producers of recent years: Charles Bieler (of Three Thieves / Rebel Wine Co. and BIELER Père et Fils) and Charles Smith(of K Vintners, Magnificent Wine Co. and Charles Smith Wines). Their collaboration--aptly named Charles and Charles--has yielded a single vineyard dry rosé from the Wahluke Slope of Washington State, just now released.
Bieler has been making rosé in Provence, France with his family since 1992 and was one of the early champions of the category in the US. "In the late 90's it was only top tier shops that would carry any rosé at all," says Bieler, "and it took serious explanation to convince people that in fact not all pink wine was sweet. Now, every good restaurant and retailer loads up on at least a few for the warmer months. We've come a long way, baby." Smith got hooked on rose during his years living in Europe managing rock bands.
Imports have dominated rosé sales in the US (Nielsen reported that 76.7% of rosé sold in the US was imports), and Bieler and Smith think that's no big surprise. US wineries making rosé generally use the saignée method -- drawing a portion of the juice from red grapes from a few hours after crushing to after fermentation starts -- resulting in big, rich, dark rosés that are impressive in their power, but often lack the winning fresh and crisp qualities that make rosés from Southern France, Spain and Italy so compelling. Especially with the long growing season and more moderate climate of the Wahluke Slope, there was no reason why a domestic rosé couldn't deliver that same bright profile, and so Charles & Charles was hatched.
Smith made this 2008 rosé of syrah from the Talcott Vineyard from the Wahluke Slope (AVA) in the traditional Provencal way--grapes picked at the early edge of ripeness, sent straight to the press without any extended cold soak, and fermented and aged in stainless steel tanks at cooler temperatures. New World fruit, Old World methods, what's not to like?
The wine retails for $12.00 and will be available in top wine shops and restaurants nationally.
###