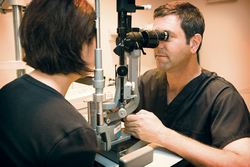 I am proud to partner with the skilled eye surgeons at Carolina Eyecare Physicians who offer the highest quality vision care in the Lowcountry. We're focused on helping our patients achieve a better quality of life through better vision
Charleston, SC (PRWEB) December 1, 2009
Dr. Kerry Solomon, a world-renowned refractive and cataract surgeon and member of Trusted LASIK Surgeons, announced today that he has joined Carolina Eyecare Physicians and has opened a new office in Mt. Pleasant, South Carolina. Dr.Solomon has also launched his redesigned website, http://www.DrKerrySolomon.com, developed by Medical Consulting Group, a premier medical marketing and consulting company in Springfield, Missouri.
Dr. Solomon serves patients seeking LASIK and cataract surgery in Charleston including the Mt. Pleasant, West Ashley, Summerville, Ladson, Goose Creek communities, and the surrounding Beaufort and Myrtle Beach outlying coastal areas.
"I am proud to partner with the skilled eye surgeons at Carolina Eyecare Physicians who offer the highest quality vision care in the Lowcountry. We're focused on helping our patients achieve a better quality of life through better vision," said Dr. Kerry Solomon of Carolina Eyecare Physicians. "We want every patient who walks through the door to feel like family."
Dr. Kerry Solomon is a member of the Trusted LASIK Surgeons Directory, an informational resource for consumers looking to obtain the best vision correction. Trusted LASIK Surgeons screen all surgeons featured in its directory based on experience, patient care, and professional credentials to ensure they are among the best in the United States.
During his 17-year career dedicated to improving vision, Dr. Solomon has performed more than 9,000 LASIK and laser vision correction procedures. In addition, he is often selected by other eye doctors to perform their LASIK procedures. Dr. Solomon treats patients with a variety of vision problems including nearsightedness (myopia), farsightedness (hyperopia), astigmatism (blurred vision), presbyopia (reading problems), and cataracts.
He is committed to providing state-of-the-art technology including all-laser Bladeless iLASIK, and the first iFS™ Femtosecond laser system in South Carolina, as well as premium replacement lens implants for cataract patients. In fact, Dr. Solomon implanted one of the first ReSTOR® multifocal lenses in the country and was part of the original ReSTOR FDA studies. As the first ophthalmologist to bring excimer laser and LASIK technology to South Carolina, Dr. Solomon's innovative approach to vision correction means patients can expect the newest technology to diagnose, measure and treat patients for LASIK and cataract surgery.
Dr. Solomon's numerous and substantial contributions to research and teaching distinguish him from the majority of refractive surgeons in the United States. He is the director of the newly formed Carolina Eye Research Institute, and focuses on a mission of bringing tomorrow's technology today. He has also served as a principal investigator in 10 FDA studies concerning the use of ophthalmic devices, is a Professor of Ophthalmology at the Medical University of South Carolina, is the current Chief Medical Editor of the Refractive Surgery Quarterly, and serves as an editor and/or reviewer for several other ophthalmology journals. Dr. Solomon has presented more than 500 lectures on research topics at major eye meetings, published 65 peer-reviewed scientific journal articles, authored more than 20 textbook chapters and/or books, and produced more than 30 surgical videos.
"We are pleased to announce the launch of Dr. Kerry Solomon's new practice and website. In my opinion, Dr. Solomon is unique among refractive and cataract surgeons due to his special expertise in both LASIK surgery and cataract surgery," said James J. Salz, M.D., Chief Executive Officer of Trusted LASIK Surgeons. "He has participated in multiple FDA studies in both of these areas and has published and lectured extensively all over the world on subjects related to both laser surgery, lens implants, and cataract surgery. He is often consulted by other refractive and cataract surgeons to help manage surgical complications. We are honored to have a LASIK and cataract surgeon of Dr. Solomon's abilities and substantial accomplishments featured in our directory at Trusted Lasik Surgeons."
Visit Charleston LASIK Surgeon Dr. Kerry Solomon profile page at Trusted LASIK Surgeons
To learn more about Dr. Kerry Solomon's refractive surgery practice, please visit Carolina Eyecare Physicians.
To contact Dr. Kerry Solomon's office directly, please visit: Dr. Solomon Contact Form
For more on why consumers should consider surgeons listed in the Trusted LASIK Surgeons directory for their vision correction needs, please visit:
Why choose a surgeon from the Trusted LASIK Surgeon's Directory
The screening process and standards used by Trusted LASIK Surgeons are located at How Are LASIK Surgeons Qualified at Trusted LASIK Surgeons?
To find a highly accomplished LASIK and refractive specialist in your local area who has been qualified and listed in the Trusted LASIK Surgeons directory, please visit Trusted LASIK Surgeons Directory
About Dr. Kerry Solomon at Carolina Eyecare Physicians
Dr. Kerry Solomon at Carolina Eyecare Physicians offer family-oriented, state-of-the-art, comprehensive eye care in a relaxed and professional setting. Dr. Solomon brings unsurpassed eyecare and vision correction to Charleston with Bladeless iLASIK, cataract surgery, and premium advanced-technology lens implants (ReSTOR®, ReZoom®, Crystalens®, Tecnis®, Verisyse™, and Visian™ ICL), as well as treatment for glaucoma, macular degeneration, and diabetic retinopathy.
Dr. Kerry Solomon at Carolina Eyecare Physicians
East Cooper Medical Arts Center
1280 Johnnie Dodds Blvd., Suite 100
Mt. Pleasant, SC 29464
843-881-EYES (3937)
888-849-EYES (3937)
North Charleston
2861 Tricom Street
North Charleston, SC 29406-7121
(843) 797-5511 TEL
(843) 797-0638 FAX
West Ashley
2060 Charlie Hall Blvd., Suite 201
Charleston, SC 29414
(843) 722-2010 TEL
(843) 723-3914 FAX
About Medical Consulting Group
Medical Consulting Group has more than 20 years of marketing and management success in the medical industry. They offer business consulting, and multimedia and print marketing services to the country's most prestigious medical practices, as well as corporate consulting to medical device manufacturers and ophthalmic companies, including several Fortune 500 organizations. Their experienced consultants provide comprehensive solutions for sales, management, training, strategic planning, real estate development, and financial analysis services for clients. http://www.medcgroup.com
Medical Consulting Group-Missouri
2808 S. Ingram Mill Rd., Bldg. B
Springfield, MO 65804
phone: (417) 889-2040
Medical Consulting Group-Arkansas
509 W. Spring Street, Suite 273
Fayetteville, AR 72701
phone: (479) 442-2268
About Trusted LASIK Surgeons, Inc.
Trusted LASIK Surgeons, Inc. (Trusted LASIK Surgeons) is a premier LASIK and refractive surgery directory service whose primary mission is to assist consumers in finding the best and most qualified LASIK and vision correction surgeons in their local area in the United States. To accomplish this, Trusted LASIK Surgeons uses a unique screening process where each prospective LASIK surgeon must meet the minimum required qualifications set by Trusted LASIK Surgeons. These qualifications are based on experience (not just in LASIK but complete refractive care), research (including FDA approval studies for manufacturers and academic appointments at major universities), publications and lectures (to their peers, not to the public via infomercials) and patient care standards (treating other eye professionals and managing complications from patients first operated on by someone else). All refractive surgeons listed at Trusted LASIK Surgeons have qualified, been accepted, and have subscribed to our services. For more information on why we believe consumers interested in LASIK should consider a surgeon listed in the Trusted LASIK Surgeon's directory, please visit our website at http://www.TrustedLASIKSurgeons.com.
Trusted LASIK Surgeons
(800) 483-8028
news at TrustedLASIKSurgeons.com
SOURCE: Trusted LASIK Surgeons
###