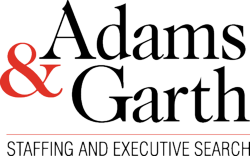 We take time to understand each client's needs and culture, and match those needs with employees who have been thoroughly screened through skill and behavioral-based testing
Charlottesville VA (PRWEB) March 04, 2013
Adams & Garth Staffing, a leading staffing and executive search firm in Virginia, is proud to announce it has been named to Inavero's 2013 Best of Staffing™ Client list. The list created in partnership with CareerBuilder, provides the only statistically valid, objective, service-quality benchmarks in the staffing industry and reveals which staffing agencies are delivering exceptional service to their clients. This identifies Adams & Garth Staffing as one of the best staffing agencies for companies to call when they are looking to hire temporary or permanent employees.
"Adams & Garth Staffing is thrilled to be included in this prestigious award," said Lee Witherow, President of Adams & Garth Staffing and Executive Search. "The Best of Staffing Award confirms that Adams & Garth's approach is succeeding. We take time to understand each client's needs and culture, and match those needs with employees who have been thoroughly screened through skill and behavioral-based testing," said Witherow.
Less than one percent of all staffing agencies in North America receive the Best of Staffing award for service excellence. Utilizing the Net Promoter® methodology, the 2013 Best of Staffing Client winners achieved satisfaction scores quadruple the industry average. This stark contrast in scores is a clear indication that the firms who have earned their way onto the 2013 Best of Staffing list truly stand out for their service quality. Adams & Garth Staffing received satisfaction ratings of 9 or 10 out of 10 from 81.7 percent of their clients, significantly higher than the industry's average of 39 percent.
®Net Promoter, NPS, and Net Promoter Score are trademarks of Satmetrix Systems, Inc., Bain & Company, and Fred Reichheld. Net Promoter Score is calculated by taking the percentage of respondents who, on a scale of 0 to 10, rate their likelihood to recommend the staffing agency with a score of 9 or 10 (promoters) and subtracting the percentage who rate the staffing agency a 6 or lower (detractors).
About Adams & Garth Staffing
Adams and Garth Staffing Solutions opened its first office in 1989. Since then, they have taken great pride in being a leading locally owned and non-franchise staffing, recruitment, and employment agency in Central Virginia. The company specializes in temporary, temporary-to-hire, and direct hire services in a variety of fields, including: office/clerical, industrial, accounting/finance, engineering, IT, agriculture/farming, construction, HR, marketing/sales, medical administrative, legal, hospitality, restaurant and manufacturing.
With offices in Charlottesville, Harrisonburg, Lynchburg, Richmond, Staunton, and Winchester, Adams and Garth is able to serve all of its clients' temporary and direct hire staffing needs throughout Central Virginia. Ultimately, Adams and Garth strives to become a partner for both local employers and job seekers.
About Inavero
Inavero administers more staffing agency client and talent satisfaction surveys than any other firm in the world. Inavero's team reports on satisfaction surveys from more than 500,000 staffing agency clients and talent each year, and the company serves as the American Staffing Association's exclusive research partner.
Inavero's Best of Staffing™ is the nation's only award that recognizes staffing agencies that receive remarkable reviews from their clients and the people they help find jobs (employed talent). The Best of Staffing winner lists are a central place that businesses and talent go to find the best staffing agencies to call when they are in need.