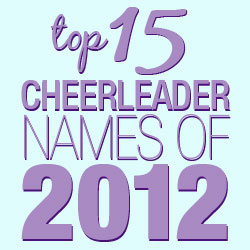 We thought it would be interesting to see if the pop culture stereotypes were in line with the reality.
San Diego, CA (PRWEB) March 26, 2013
In an effort to further explore the hot topics of cheer and to break the latest news, leading cheerleading apparel company, Chassé, and Cheerleading Blog (supported in part by Chassé) ran a study on the 15 most popular cheerleader names of the past year.
"The point of this study was to shed light on something a lot of people are interested in but can't find anywhere else. A study like this is a lot of fun for us and our customers and we thought it would be interesting to see if the pop culture stereotypes were in line with the reality," explained Jessica Rzeszut, Chassé marketing manager.
The study was based on cheerleading apparel embroidery personalization ordered via Omni Cheer and Campus Teamwear between January 2012 and December 2012. Based on number of orders, a list of the most popular names was drawn.
The top cheerleader names were compared with common names from cheerleading moves and television shows, as well as the most popular girl names from the 1990s and 2000s.
"We didn't want to just provide a list of names. We wanted to compare them with what the media generally thinks cheerleaders are named, in movies and on TV," said Melissa Darcey, Cheerleading Blog editor. "We also wanted to show what the popular names were for girls in the 1990s and 2000s, considering those are the years in which most of today's cheerleaders were born."
The results were posted on the blog earlier in the week and many readers might be surprised at what did, and didn't make the list.
"Chassé and Cheerleading Blog always strive to break ground in the world of cheer, whether it's with new uniform designs or studies like this one. Like cheerleaders, we're passionate about cheer and want to continue to see the industry grow," said Chassé web director, Kevin Oskow.
You can view the results on Cheerleading Blog.
ABOUT CHASSÉ:
Chassé® is a leader and innovator in the world of cheerleading apparel and accessories, providing affordable and high-performance in-stock cheerleading apparel to cheerleaders of all ages.
ABOUT CHEERLEADING BLOG:
Cheerleading Blog is the official blog supported by industry leaders Omni Cheer®, Campus Teamwear®, Chasse®, Fund2Raise® and Glitterbug® Cosmetics.