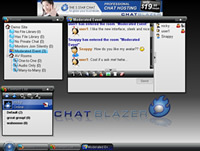 ChatBlazer 8 will offer the most standard features in the market while still maintaining an affordable price.
Winston Salem, NC (PRWEB) June 24, 2008
Winston-Salem, NC (PRWEB) June 24, 2008 -- Pendulab, a developer of enterprise level software applications and a division of SolidSpace, LLC, announced today the release of version 8 in its Flash Chat software, ChatBlazer and ChatBlazer AV. The ChatBlazer 8 feature release is packed full of chat client upgrades, advancements in room/group assignments, and convenient media sharing tools. ChatBlazer 8 makes communicating with colleagues and friends easy and affordable with multiple purchasing options and more bundled features than other chat software providers.
The three phase release of ChatBlazer 8 begins with:
Phase One Releasing June 24, 2008

A slick new chat client with multiple floating windows
Bundled skin packages, dynamically change the chat client background with just the click of the mouse
Hosted database connections, making integration of external user data for hosted accounts quick and efficient
Advancements in room group separation, isolate user groups by individual room levels
Customized room based roles, assign users key roles that are room specific
Administrative enhancements, monitor and send messages directly to any chat room
Easy Share File Library, files and pictures can be shared and stored with ease
With Phase One delivering the chat client and many of the back-end upgrades to ChatBlazer 8, Phase Two is all about audio video. Phase Two, releasing October 2008, will focus on making ChatBlazer's audio video conferencing even more productive and revenue building by adding features in chat room user recognition tools, audio video stream sharing, Wowza sever support, a pay per usage feature and much more. Phase Three is to release in December 2008, with a White Boarding feature and several other back-end upgrades planned.
"ChatBlazer 8 is all about usability, efficiency and offering a robust product offering like no one else in the Flash chat industry," stated Chris Low, Director of Product Development. "ChatBlazer 8 will offer the most standard features in the market while still maintaining an affordable price."
About Pendulab
Pendulab, a division of SolidSpace LLC, is the developer of the AffiliateShop affiliate management products, ChatBlazer Enterprise real-time communications tools and InstantEngage live customer service chat products. Through the software as a service format, users are empowered to easily maintain a powerful, interactive web presence that boosts visibility and turns leads into revenue. For more information, visit http://www.pendulab.com .
About SolidSpace, LLC
SolidSpace, LLC is a leading provider of IT hosting and network solutions, enabling small to mid-size businesses to benefit from Enterprise Level IT services economically. SolidSpace's solutions provide onsite and remote IT services, website, application, and database hosting, managed services, collocation and broadband services. SolidSpace, LLC is headquartered in Winston-Salem , NC , and is a portfolio company of SilkRoad Equity LLC (http://www.silkroadequity.com ) Additional information about SolidSpace, LLC services can be found at http://www.solidspace.com .
###