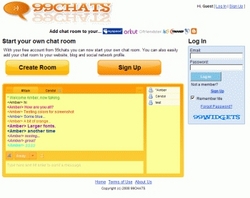 99Chats.com is by far the most advanced yet classic chat widget available online today and we're proud we can deliver it for free
Los Angeles, CA (PRWEB) February 9, 2009
99Widgets Group launches 99Chats.com, a free flash chat room widget allowing bloggers, website owners and users at social networks, to create and place a free chat room in their pages easily allowing them to interact with their visitors.
99Chats.com is free and could be fully customized, from colors, background and fonts to border style, size and design and even the opacity level of the flash chat room widget to fit perfectly on any web page design. Webmasters and blog owners can create their own themes or choose one of the made and ready-to-use themes available at 99Chats.com website; 99Chats.com offers wide range of themes from unvaried themes to rich and colorful themes.
"99Chats.com allows users to start their own chat room, they can also easily add their chat room to their website, blog, eBay page, social network profile and virtually anywhere on net," mentioned Mr. Erik Smith, one of the 99Chats.com chat room widget founders.
"We had users asking us if they can place the chat room in their eBay profile, they were shocked to see that it does work for them and they can chat and fully interact with their buyers! Through the chat room and through private messaging using our unique tabbed private messaging user interface," added Mr. Smith.
99Chats.com allows users to extend your interaction with their visitors, providing them with realtime text messaging on almost any web resource as it uses pure flash code the same that is being used in YouTube Videos.
99Chats.com is light-weight and takes only 65KB, it also supports tabbed private messaging with chat members, block user, and flood detection and prevention mechanism, it also works in any language.
"We got some great feedbacks on 99Chats.com free flash chat room widget, and we see the demand for bloggers to interact with their users, we think the web is dynamic and sooner or later real time chats will be a common property at any blog or website and we want to be on top of it when it happens," Mr. Smith commented.
99Chats.com is a part of the "99Widgets.com Widget Network" which all it's widgets uses one-login information allowing webmasters to easily benefit from other services without the hassle of signing up to multiple services. The various other widgets featured in the 99Widgets Network are: 99Counters.com a free geo targeted counter for blogs and websites allowing quick stats and 99Polls.com which allows webmaster and blog owners create their own flash polls widgets and easily embed them on their websites.
"99Chats.com is by far the most advanced yet classic chat widget available online today and we're proud we can deliver it for free," Mr. Smith concluded.
http://www.99chats.com/ - 99Chats.com website
http://www.99polls.com/ - 99Polls.com website
http://www.99counters.com/ - 99Counters.com website
http://www.99widgets.com/ - 99Widgets.com website
###