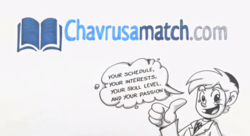 Rabbi Moshe Yitzchak Markowitz, an entrepreneur, feels that the new site will "redefine the playing field of how people can find chavrusas."
Saint George, UT (PRWEB) September 06, 2012
Chavrusa Match, a new site launched for learning Torah, is an amazing tool to connect users with a chavrusa (study partner) meeting their specific needs with ease.
With the Siyam HaShas approaching, Klal Yisroel focuses its attention on the primacy of limud haTorah, celebrating those who have dedicated significant time and energy to embrace a relationship with Torah learning. The moment inspires all of us, and provokes us to enhance our own relationship to Torah. A remarkable new tool, Chavrusa Match, is now available to aid in our quest to bring more learning into our lives.
The brainchild of Rabbi Yisroel (Jason) Gelber, Chavrusa Match globalizes and streamlines the process of locating a chavrusa (study partner) who meets one's interests, background, and schedule. Its chief utility lies in its simplicity – the user simply inputs his desired learning criteria and can find one-on-one learning opportunities in-person, via telephone, or video chat/Skype for any time, topic, and place in the world. "I had a night chavrusa for 15 minutes an evening on the phone," Rabbi Gelber says. "We accomplished so much in a year in just that short daily time; I realized that I could squeeze a few more of these in during my day but I didn't know where to start to find others who might be interested." Enter Chavrusa Match to actualize that journey.
Rabbi Moshe Yitzchak Markowitz, an entrepreneur, feels that the new site will "redefine the playing field of how people can find chavrusas." He also expects it will encourage people to pack in learning sessions during times they otherwise would have never considered.
A Jew who travels often or lives in a far flung location. A mother of young children. Someone with an unorthodox work schedule. All of these and more will benefit from Chavrusa Match.
Chavrusa Match launched Wednesday, August 1st. It is available to men and women (separately only) of all ages, interest and educational backgrounds. Log on, add your profile and begin your search for a meaningful learning experience.