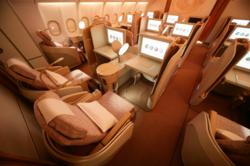 I Fly First Class the Leader in Business and First Class Industry.
Chicago, IL (PRWEB) March 03, 2013
The quality of airline business class seats can greatly affect business travelers' productivity. Most professionals who fly business class do so to work and rest more easily, so it follows that privacy, work space, storage and sleeping comfort are all important factors in selecting business flights. To help guide business travelers in selecting the most comfortable business class seating, the travel experts at I Fly First Class announce their top picks for international business class seats.
New seats that lie completely flat are the new hallmark of quality business class seating. "To do well in this competitive business class market, many airlines, such as Asiana Airlines and Austrian Air, are upgrading their business class cabins to include luxury full-flat seats," says I Fly First Class PR Manager Julia Graft. Austrian Air's new long-haul cabins, for example, feature full-flat beds with an air cushion system, built-in seat massage and extra storage/work space.
Cathay Pacific
At 82 inches fully extended, Cathay Pacific's business class seats are some of the longest in the industry. Width extensions offer additional hip support and the storage space provides room for knees while side-sleeping. While upright, a touch of a lever easily moves seats to provide extra comfort while working or visiting with other passengers. Privacy is extended with a cabinet door.
Qatar Airlines
A four-year winner of the World Travel Awards for best business class, Qatar Airlines offers its business class travelers a mattress-topped full-flat bed, pajamas and cozy eye shades. Video screens and movie selections are large, USB ports are easily accessible and the food and beverage offerings are first-rate.
Oman Air
Privacy and comfort are the trademark features of Oman's business class cabins. The long full-flat seats are enhanced with mattresses and high-quality sheets and duvets. Airbus 330 business class cabins feature just four seats across and high sides for extra privacy. Oman Air earned Skytrax' 2012 best business class seat, World Airline Awards.
Virgin Atlantic
Full-flat beds with down duvets and full-size pillows make Virgin Atlantic's business class seats a good bet for travelers who want to sleep in-flight. Most of Virgin's aircraft have business class cabins filled with individual seat pods arranged in a unique herringbone configuration. The set-up provides direct access to the aisle from every seat.
Singapore Airlines
Mostly known for its outstanding business class service and first-class dining, Singapore Airlines earned the 2012 World Travel Award for best airline business class. Most of the air carrier's business class seats are wide and offer comfortable, full-flat seats with mattress toppers.
As with any type of flight, it's important for travelers to do a little research to find the business class that best fits their particular needs. "Business travelers who are flying during daylight hours may want to select a business class that offers the most work and storage space rather than worry about getting a full-flat bed," says Graft. "On the other hand, business people who are flying overnight should look for airlines offering the roomiest, most comfortable beds."
Julia Graft, PR Manager
About Us
We know our customers expect the highest quality standards. Reliability and integrity are the hallmarks of our reputation. Enjoy luxurious travel at special discount rates to the most international destinations on first and business class flights with I Fly First Class.