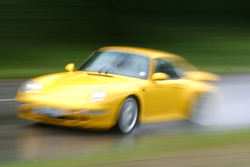 Most people come to us for the advanced driving course rather than to save on their insurance bill
(Vocus) January 29, 2009
There's a way to save at least 25% on car insurance. The latest Ride Drive Insurance Scheme promises to knock a quarter off drivers' premiums, whoever they are currently insured with, provided they've passed an approved Ride Drive advanced driving course. And the discount applies for as many years as the driver stays claim-free.
The added benefit is that Ride Drive courses are designed to improve driving skills. Billed as 'real life advanced driving', the courses cost from just over £200 for one of the insurance-approved courses.
The scheme is a collaboration between Ride Drive Limited, who run the courses, and Adrian Flux Insurance Services, the specialist car broker. Flux says it guarantees to reduce any legitimate renewal premium by 25% - and sometimes the discount can be even higher.
Julian Smith, Director at Ride Drive Limited, says that many customers initially think the insurance scheme is too good to be true. "Most people come to us for the advanced driving course rather than to save on their insurance bill," he says. "It takes a while for the 25% discount to sink in - but once it does, the feedback is 100% positive!"
However, as word is getting round, more people are becoming interested in the insurance scheme. "Especially those who are looking for ways to save money in the recession," says Smith. "Drivers with high performance cars - and commensurately high insurance - can often save much more than the course costs, straight away. But even people driving standard motors will get a good return on their investment, since they'll carry on getting 25% off their insurance for as many years as they stay claim-free.
"Plus, of course, they'll be safer drivers, and will get far more pleasure from their car ownership experience."
Once drivers have successfully passed the course, they simply contact Adrian Flux when their insurance is due, quoting their current insurer's renewal premium figure. Flux guarantees to insure them for 25% less than the premium they have been quoted, and in some cases the discount may be even bigger. "We have access to hundreds of different schemes," explains Craig Darwin of Flux. "With specialist vehicles such as high performance or modified cars, we often find that we're more competitive than the policyholder's current insurer, even before we take the Ride Drive discount into account."
The only stipulations on the Ride Drive Insurance Scheme are that drivers must have had their own car insurance policy during the previous year (rather than being a named driver on someone else's policy) and they must not have made a claim during that time. There's no time limit on claiming the 25% discount - so if a policy has only just been renewed, the policyholder can wait a year before applying to the Ride Drive Insurance Scheme.
To learn more about the scheme visit the Ride Drive website at http://www.ridedrive.co.uk/adrianflux.htm or http://www.adrianflux.co.uk/ridedrive
For quotations contact the Adrian Flux dedicated Ride Drive quote line on 01553 845 869, or email the company at quotes (at) adrianflux.co.uk
PRESS ENQUIRIES:
Ride Drive Scheme 2009.doc- Jan-09
Toni Turner or Alison Haynes at The Publicity Works
Tel: 01263 761000 Email: flux (at) publicityworks.biz
Craig Darwin of Adrian Flux Insurance Services: 0800 505 3000
Julian Smith of Ride Drive: 01296 427889
Notes for editors:
Ride Drive:
The company's advanced driving courses offer high quality advanced driver training, including classic and high performance driving courses for those who want to get the very best out of the ownership experience of their car. Each driver-training course has been researched and written by Class-One advanced police drivers, who have themselves been through many high-level advanced driver-training courses.
Adrian Flux Insurance:
Is one of the UK's leading car and motorbike insurance specialists, offering a huge range of schemes for the motoring enthusiast.
The Ride Drive/Flux Insurance scheme works as follows:

Contact the Ride Drive office and book an advanced driving programme that is recognised by the scheme. If at the end of the session the assessment indicates that you are a low-risk category driver then you will qualify for inclusion within the scheme.
Having received a favourable assessment, take out a motor insurance policy with Adrian Flux Insurance. Provided you have remained claim free during the past year, the premium will be at least 25% less than your current insurer's renewal quote. If you continue to remain claim free, each subsequent policy renewal will be charged at the discounted rate of 25% below the standard rate.
###