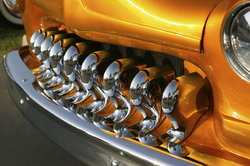 King is just trying to get media coverage by hitting a soft target and rattling middle England
(Vocus) April 10, 2009
AA Chairman Edmund King's comments about young motorists, modified cars and nitrous oxide kits have been condemned as 'ridiculous' by a leading specialist insurance broker.
Adrian Flux Insurance Services is the UK's largest provider of insurance for modified cars and is one of the only specialist brokers to cover cars fitted with nitrous oxide kits. "King is just trying to get media coverage by hitting a soft target and rattling middle England," says Gerry Bucke of Flux.
Amongst King's comments were the immortal words: "If you … put (young drivers) in a modified car... then accidents are much more likely to happen."
"There's one problem with this: it is absolute rubbish," says Bucke. "Young drivers of modified cars are on average 20% less likely to have an accident and make a claim than young drivers in cars with a standard specification.
"For a respected body like the AA to indulge in this sort of scaremongering is pathetic," he adds. "We welcome any initiative that will make young motorists drive more safely, but this sort of comment is just going to make them angry."
Flux campaigns to make young motorists drive more safely - for example, it offers big discounts for those taking advanced tests such as the RideDrive scheme and is currently working with Northamptonshire Police on the CarKraft Experience. "We're totally committed to encouraging safer driving," says Bucke. "The truth is, guys who modify their cars tend to be involved in fewer accidents. They invest heavily in their cars and take more care of them. That's true of the ones that fit nitrous oxide systems, too.
"King needs to get his facts straight before shooting his mouth off."
For details contact the Adrian Flux quote line on 0800 505 3000, email the company at quotes(at)adrianflux.co.uk or see the Flux homepage on http://www.adrianflux.co.uk
PRESS ENQUIRIES:
Toni Turner or Alison Haynes at The Publicity Works
Tel: 01263 761000 Email: flux(at)publicityworks.biz
Gerry Bucke of Adrian Flux Insurance Services: 0800 505 3000
# # #