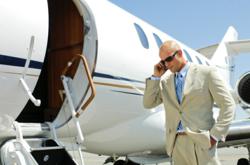 I Fly First Class The Leader in Business Class Industry
Chicago, IL (PRWEB) March 14, 2013
Today's global marketplace compels professionals to travel the world seeking access to new markets and working 24 hours a day, seven days a week in the process. The advent of business class air travel mirrors the growth of the global economy, creating a level of travel that offers far greater comfort and service than economy class. While not as expensive as first class, business class air fares can still be a bit pricey.
The business and first class travel experts at I Fly First Class (IFFC) want business and pleasure travelers to know that, with a little ingenuity and planning, business class fares are within reach for a variety of budgets. Here are a few of their tips for getting the best deals on business class travel:
Book in advance. The on-demand pricing structure of many airlines means that the earlier seats are booked, the better the pricing. Booking airfares one to two months ahead of time can translate to savings of up to 50 percent on many airlines. Now is a perfect time to start searching for, and booking, business class flights for late spring and early summer.
Be flexible. Just as with coach airfare, travelers willing to fly overnight, very early in the morning or on quieter days will realize the best savings. The benefits of business class are even more apparent on those red-eye flights, since travelers have more travel room and seats that are more suitable for sleeping.
Travel off-season. For business class, off-season is summertime when business slows down a bit to accommodate summer vacations and holidays. "Particularly in Europe, where August is the sacred holiday month, business class capacity is often wide open in summer," advises Julia Graft, PR manager for IFFC. "The abundance of seats makes summer a great time to travel via business class, especially if the travel is for a pleasure vacation."
Take advantage of unsold seats. Business class seats are very infrequently sold out, and those unsold seats often can be purchased at discounted prices, called Y-Up fares. Travelers can call the airlines or an airline booking service and ask for available Y-Up fares. These discounts are especially helpful if travel arrangements are being planned in less than 30 days.
Use frequent flier miles. Often, business class travel is less expensive when using frequent flier miles to supplement an unrestricted coach fare. Travelers can purchase an unrestricted ticket in economy/coach class, then call the airline to ask for an upgrade using mile credits obtained through rewards programs or credit card programs. Before committing to this method, however, travelers should check out the other options to determine the best pricing available.
Use a discount travel booking service. Travel experts like those at IFFC have years of experience in negotiating and unearthing the very best deals on business class travel. Using such a service can save travelers loads of time and money and pave the way for a hassle-free travel experience.
Whether travelers are flying across the world for business or across a continent for a family vacation, business class can offer the perfect combination of comfort and affordability. "Using these I Fly First Class tips, we are certain travelers can find reasonably priced business class airfares to suit their individual budgets," Graft concludes.
Julia Graft , PR Manager
About Us
Your dream vacation is just seconds away with affordable first class and business class airline tickets from I Fly First Class. Our growth continues because it is rooted in quality service, a good reputation, and routinely exceeds customer expectations. Earning the trust of our customers with a commitment to excellence, places I Fly First Class at the forefront of this competitive industry.