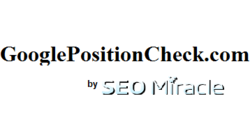 We are glad that we have other people joining us in checking Google rankings, especially in Germany, one of the biggest countries in Europe
Miami Beach, FL (PRWEB) June 01, 2012
Whether a person wants to manage his own SEO campaign or make sure his SEO company remains on the right track, Google rank checker is an SEO tool that can contribute with accuracy, reliability and the possibility to search the Internet fast. Google rank checker showed itself as a great tool according to its creators and they will continue to add other countries on their precious list of chosen ones, involving more people and allowing them to easily check Google rankings in their own country.
SEO Miracle is one of the leading SEO companies in the United States that is constantly available to its customers. At SEO Miracle, they go above and beyond for their clients by offering not only reliable and fast SEO services, but also a complex system which helps in reporting about the client's SEO work.
Joshua Hood, CEO and a co-founder of SEO Miracle, felt great about the new feature, "Our Google rank checker tool is becoming better and better. We are glad that we have other people joining us in checking Google rankings, especially in Germany, one of the biggest countries in Europe, which means that a big part of Europe will be using the Google rank checker in no time."
SEO Miracle already promised to expand further on Europe and become one of the most trusted SEO tools that will work wonders in checking Google rankings for an SEO campaign. They introduced the option for Germans to use the Google rank checker, and also announced to include more countries in their offer so everyone who runs an SEO campaign with national level keywords will be able to get good national results in the shortest amount of time.
If you would like to visit the SEO Miracle's Google rank checker website and see what they have prepared for their users, go to http://www.googlepositioncheck.com or call their office phone at 305-432-2350.