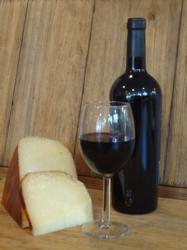 "I am purchasing a three month subscription for my mother as a gift and a six month subscription for myself. I can't wait for my first pairing next month!" -
FireFly customer
Accident, MD (PRWEB) March 21, 2013
FireFly Farms, producer of artisanal goat cheeses from Maryland's Allegheny Plateau is thrilled to announce the newest reason to stop by the retail market in Accident, Maryland. FireFly's market is a full service cheese, wine and specialty foods store. Through viewing windows in the market, customers can watch cheese made by hand daily by FireFly's cheesemakers.
FireFly's "Wine & Cheese of the Month Club" provides members a special, seasonally-curated wine & cheese pairing. The FireFly team will expertly match one-half pound of cheese and one bottle of wine - a pairing specially selected to enhance the seasonality of both products. The pairing can be savored at home, with friends or as a special private indulgence. "We are excited to expand our market's offerings to the public" shared Adelaide Savage, FireFly Market's retail manager, "Wine and cheese are two of life's great culinary pleasures and finding the perfect match can be a delicious endeavor." Cheeses will change in milk type (goat, cow, sheep and blends) and will be sourced from United States creameries. Wines from all over the globe will be picked for quality, composition and taste. Three or six month subscriptions are currently available for purchase.
A three month subscription is $90.00 and a six month subscription is $180.00. Call (301)746-8188 or go to http://www.fireflyfarms.com for more details.
About FireFly Farms:
FireFly Farms established in 2002 as Maryland's first commercial goat cheese producer. Firefly Farms cheesemakers create nationally and internationally award winning cheese that features the distinct regional flavors of Mountain Maryland's Allegheny Plateau. Each cheese is artfully handcrafted and aged with precise detail; each offers distinguished flavor, exceptional texture, noteworthy composition, and unprecedented aesthetics. The cheese of FireFly Farms is produced using agriculturally sustainable, locally sourced fresh goat's milk and time‐honored, traditional methods of goat cheese making. FireFly Farms opened its new Creamery & Market to the public in October 2011. For more details please visit http://www.fireflyfarms.com