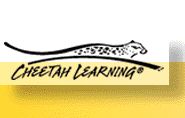 "It's a phenomenal 40-hour course filled with useful skills that help our students learn how to inspire their teams with even the most mundane of projects," LaBrosse said
Dallas, TX (PRWEB) May 15, 2013
As Benjamin Franklin once observed, "If you fail to plan, you are planning to fail." Such wisdom motivated the Project Management Professionals (PMPs) at Cheetah Learning to develop a new course that tackles simple tasks like around-the-house projects and increases the chance of successfully completing them.
Why is such planning so important? Because statistics reveal that about 75 percent of all projects fail. (http://www.certmag.com/read.php?in=622)
To help overcome those odds, "PM of Spring Cleaning" is being offered online at a special "Get Started Now" rate to introduce newcomers to project management—whether it's cleaning out a garage, landscaping the front yard or remodeling a back-porch.
Here are the course's learning objectives:

Prioritize projects for meaningful and impactful execution.
Assess each team member's strengths to find the best Spring Cleaning tasks for that participant.
Create and use a Project Plan to keep the Spring Cleaning project team on task.
Discover areas that block project success, and learn how to remove those barriers so the project can progress.
Course credit is 40 PDUs, 4.0 CEUs.
Michelle LaBrosse, creator of the PM of Spring Cleaning course, knows a thing or two about finishing projects: In addition to being CEO and founder of Cheetah Learning, known as "The Leaders in Accelerated Project Management Training," she has been recognized as one of the top 25 most influential woman in Project Management worldwide by the Project Management Institute (PMI).
LaBrosse has a BS in Aerospace Engineering and an MS in Mechanical Engineering. As a single mother of two, she cultivated Cheetah Learning into a multi-million dollar powerhouse in the Project Management education field, a competitive arena with 1,600 registered providers. In 2008, Cheetah was awarded PMI's Professional Development Provider of the Year.
Mike Carruthers, host of the nationally syndicated radio show "Something You Should Know," recently interviewed LaBrosse about how to kick-start a Spring Cleaning project. The title of the informative segment was "Completing Projects You Start." The lively exchange can be heard online at http://www.somethingyoushouldknow.net/content/completing-projects-you-start
Among the nuggets that LaBrosse shared: "Prioritizing will help you work on what's most important to you that'll take the least amount of time, with the least amount of talent, and least amount of cost."
LaBrosse's common sense approach mixed with time-tested Project Management methodology help make "PM of Spring Cleaning" a practical, rewarding experience—and now is a great time to enroll: While the tuition for the course is listed at $2,100, Cheetah is offering "PM of Spring Cleaning" at an introductory rate of $350 through May 31 for those using promotion code: PMspringclean
For an overview or to register, go to http://www.cheetahlearning.com/events/online/Spring/overview.asp?group_id=297-PMSpringClean
"It's a phenomenal 40-hour course filled with useful skills that help our students learn how to inspire their teams with even the most mundane of projects," LaBrosse said, adding, "As with all of our courses, we offer a 100 percent learning guarantee."
For more information about Cheetah Learning's various training opportunities, visit http://www.CheetahLearning.com or call toll free in the U.S. at (888) 659-2013. Outside the U.S., call (602) 220-1263.
ABOUT: Cheetah Learning is a Project Management Institute Registered Education Provider and is International Association of Continuing Education and Training Certified. Cheetah was awarded the Project Management Institute Professional Development Provider of the Year for 2008 for the significant contribution it made to the field of project management with its accelerated approach to teaching and doing project management. Cheetah Learning is a quality client of Print & Radio (PrintAndRadio.com).
###