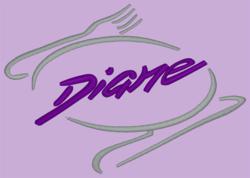 New Jersey (PRWEB) June 29, 2012
Crooked Brook, maker of "The World's Highest Quality Chef Jackets™" was contacted by Personal Chef/Culinary Nutritionist, Diane Henderiks to design cut, sew and embroider her latest chef coat.
Diane opted for women's chef coat style BSW100, in Lavender, 100% cotton Birdseye Pique fabric, with a left shoulder sleeve tailored welt pocket, with Purple piping on the collar, cuffs and sleeve pocket, and Abalone shell buttons.
Embroidery placement is as follows:
Right shoulder sleeve: Diane Henderik's personal logo
Left collar: "Diane Henderiks" in Purple, Castle font.
About Diane Henderiks
Diane Henderiks is a personal chef and Registered Dietitian on a mission to teach America how to cook and eat well! Diane's passion for food, nutrition and exercise has framed her life and career. Diane graduated from Monmouth University in 1988 with degrees in marketing and management. She began a career in the garment district of New York City. It didn't take long for her to realize that food and health was where she wanted to focus her career. In 1997 she completed the Dietetic Internship Program at University Hospital at The University of Medicine & Dentistry in New Jersey where she received the Award for Clinical Excellence. She then went on to start "Diane M. Henderiks, R.D. & Associates, LLC", her nutrition consulting firm.
Day to day, Diane manages her two companies, teaches cooking classes and hosts supermarket tours. She has raised the culinary bar for healthy cooking and is renowned for her expertise in creating wholesome cuisine that is both delicious and nutritious. Diane lives at the Jersey Shore with her husband Erick and sons Lukas and Derek.
Cooking has always been Diane's passion and she began to notice that people were equating eating healthy with boring, bland food which was not what she was whipping up! In 2005, after years in private practice Diane self-published a cookbook and started, "Diane's Daily Dish", her personal chef and catering business.
About Crooked Brook
Crooked Brook is a unit of the atelier division of an art studio that offers full service apparel design, pattern making, sample making, private-label small lot production and embroidery. Since 1989, they've built a strong reputation of providing top-notch apparel designs, patterns, fit and production samples for many brand name catalogs and retailers, as well as wardrobe and costumes for movies, television and theater.
All Crooked Brook branded garments and accessories are proudly made to order in the U.S.A.
Because of their unparalleled attention to detail in tailoring, they were awarded a Supima® licensing agreement. These contracts are not awarded lightly. The applicants must meet requirements insuring the highest level of quality and integrity for any products bearing the Supima® brand.
In addition, Crooked Brook designs and manufactures:
Men's and women's chef coats and uniforms for the world's most recognized chefs, hotels, casinos, spas and resorts as well as alumni chef jackets for the Culinary Institute of America. Each garment can be personalized with the customer's choice of fabric, pockets, buttons, piping and embroidery.
With a design studio in New York City, (the fashion and gastronomic capital of the world) and a production facility in Utica, New York, they've garnered international brand name recognition as the maker of the "World's Highest Quality Chef Jackets™".
Promotional products, items, decorated apparel and accessories, such as; jackets, hats, sweatshirts, hoodies, polo shirts, fleece blankets, sweatshirt blankets, button down shirts, fleece jackets, golf shirts, custom t-shirts, tote bags, and aprons that can be customized with the following apparel decorating methods:
Embroidery
Tackle Twill
Appliqué
Direct to Garment Printing (DTG)
Sublimation
Custom lab coats, uniforms and scrubs for nursing, medical, dental, scientific, engineering, technology & healthcare professionals.
Custom made apparel and accessories for men and women, including but not limited to: suits, shirts, Hawaiian shirts, pants, vests, dresses, skirts, gowns, jeans, boxer shorts, martial arts and yoga outfits.
Crooked Brook ships worldwide. Hours of operations are 7:00 a.m. to 7:00 p.m. EST, seven days a week. Reach them at (315) 733-1992 to learn more.