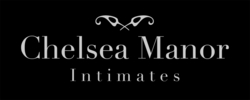 The importance of the investment was not only the money, but also the resources that our investors can bring to Chelsea Manor," commented Salem
Los Angeles, CA (PRWEB) August 17, 2010
Chelsea Manor, a retailer of fashion lingerie, intimate apparel and related products, announced today that the company has secured capital from a group of San Francisco Bay-area investors and plans to build a world-class e-commerce website. The announcement was made by Houman Salem, Founder and CEO of the Salem Holdings Company, the parent company to Chelsea Manor.
Chelsea Manor opened its flagship retail store in late 2009 at Westfield Fashion Square, a popular mall based in Sherman Oaks, California (a city in the Los Angeles County). The store offers a European-inspired boutique retail shopping experience with products that are characterizes as entry-level luxury at affordable price points. Chelsea Manor was launched with an initial investment made by the Salem Holdings Company and began initial talks with outside investors in March 2010.
Chelsea Manor's new investors are icons of the San Francisco sports and business communities; including retired NFL star Ronnie Lott and apparel industry and licensing executive Joel Kleinfeld. Ronnie Lott won four Super Bowls with the San Francisco 49ers and was inducted into the NFL Hall of Fame in 2000. "I believe strongly in the long term business plan of Chelsea Manor," commented Lott.
The investors in Chelsea Manor also agreed to bring value-added connections and resources to help the company grow and expand rapidly. "The importance of the investment was not only the money, but also the resources that our investors can bring to Chelsea Manor," commented Salem. Chelsea Manor's investors all hold an equity position with the company, with Lott and Klienfeld both taking a seat on the company's Board of Directors. The investment made in Chelsea Manor is earmarked for the development and launch of the company's e-commerce website, which is expected to be launched by late September 2010.
About Chelsea Manor:
Chelsea Manor is a mall-based retailer of fashion lingerie, intimate apparel and related products operating out of its flagship retail store at Westfield Fashion Square in Sherman Oaks, California. The company specializes in entry-level luxury products at affordable price points including, lingerie, corsets, babydolls, teddies, chemises, camisoles, bras (from 32A to 42DDD), panties, masquerade masks, sexy costumes, and romantic gifts. Chelsea Manor designs its own collections and also carries products from such reputable brands as Cosabelle, Falke, NuBra among others. For more information, please contact media(at)salemholdings(dot)com and connect with Chelsea Manor on Facebook, Twitter, LinkedIn, Youtube, Yelp! and Foursquare.
About Salem Holdings Company:
Salem Holdings Company™ owns and operates businesses in the fashion, apparel, and retail industries. Headquartered in Downtown Los Angeles, California with offices in New York City, Salem Holdings Company™ is committed to building a diversified company of leading lifestyle brands in the United States. We aim to establish our leadership position by continuously developing unique and cutting-edge brands that have a significant competitive advantage in the marketplace and that offer consumers a compelling brand experience.
Salem Holdings Company™ is comprised of a number of independent subsidiary companies, all of which are established either through a direct investment, an acquisition, or through a licensing arrangement. Our core business strategy relies on launching and growing well-differentiated brands in markets that are either not served or are underserved by current competition, markets where competition is fragmented, or markets that show a significant opportunity for sustainable growth. We focus on building brands into profitable business enterprises and ensure that each brand creates considerable value for our partners, stakeholders, consumers and our communities. For more information about Salem Holdings company, please email media(at)salemholdings(dot)com
# # #