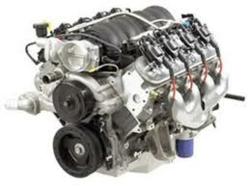 This new decrease in price applies to I4, V6 and V8 inventory in stock.
Houston, Texas (PRWEB) March 03, 2013
General Motors produces its Chevrolet series that includes cars, SUVs and trucks in North America. Millions of these vehicles are sold annually and many are eventually traded in to the secondary automobile market. High mileage can be one factor in making the decision to replace a motor. The MotorUniverse.com company announces a new price drop for its Chevrolet engines for sale online. This new decrease in price applies to I4, V6 and V8 inventory in stock at http://motoruniverse.com/chevy-motors-for-sale.
GM produced several variations of its small block engine. The original V8 design was expanded in the 1970s and 1980s to improve performance and fuel efficiency. Newer engines like Ecotec and the IV Vortec have been used in the majority of vehicles produced within the past 25 years.
Preowned vehicle owners replacing engines in current and classic vehicles can now research these units online. The new discounted pricing is now in effect and is applied to all sales made through telephone or online processing.
The fuel efficiency rating in modern engines grows each year as technology develops. The production of parts and components that are used in engine engineering have received equal advancements. Motors that are produced in this decade are able to exceed the standard benchmark of 100,000 miles.
The Motor Universe company assures all buyers of its stock that the inventory carried offers the lifespan that is expected. New efforts like warranty extensions and free shipping are now attached with every sale that is processed by this company.
The domestic GM inventory has received more than one upgrade this year. The import automaker inventory of Honda has received equal increases in inventory. These engine types are often requested by project car builders and owners of vehicles. These original JDM engines are now stocked and discounted by the MotorUniverse.com.
The news announcement for the Honda increases in inventory can be read on the Internet at http://www.prweb.com/releases/honda-motors-for-sale/honda-engines/prweb10361997.htm.
Customers interested in receiving immediate pricing for any in stock motor are encouraged to use the new quote system built online. This system is in addition to the toll-free telephone number quotation service is currently provided offline.
About Motor Universe
The Motor Universe company is a leading retailer and distributor of preowned automobile, SUV and truck engines in North America. This company recently launched its website online to provide better used engine resources to the public. A low pricing decision was recently made by this company to begin discounting specific makes and models of inventory in stock. The Motor Universe company supplies no cost shipment incentives and no charge evaluations of all company inventory prior to direct sale and shipment to customers. These measures have helped build this company into a leading resource on the Internet.